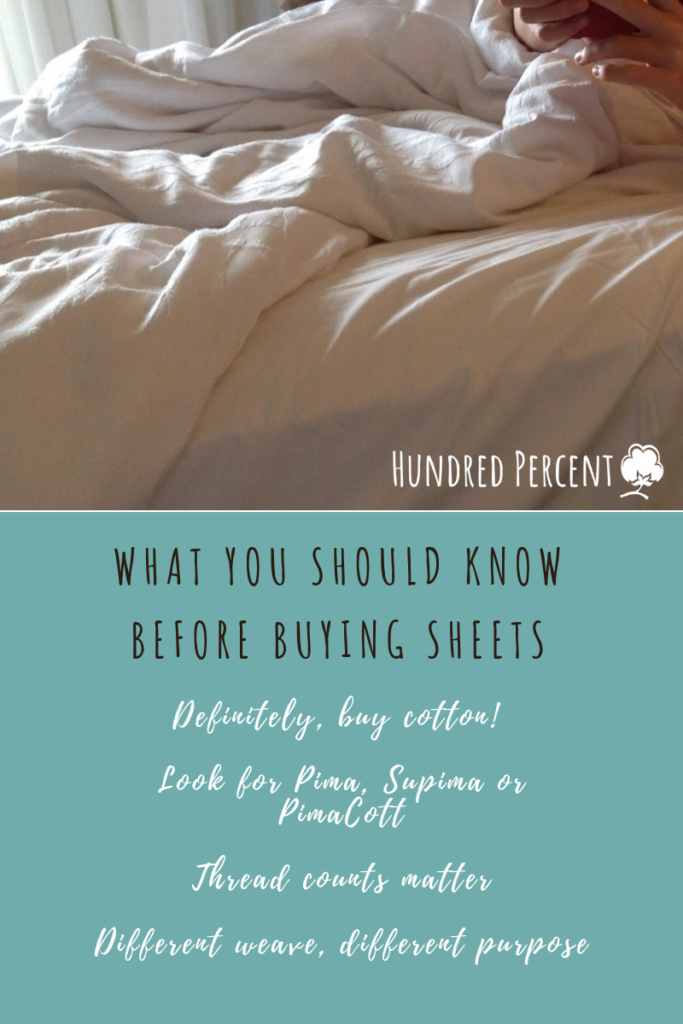 Last week as I was attending a conference on the technical side of blogging, a friend (Michelle Miller of TheFarmBabe.com) sent me a message since I'm her go to on all things cotton. I answered as she sent another, another and then a deluge. You would have thought she was having a bit of a personal crisis, but in fact, she was just trying to buy some new bed sheets for her home.
I think I've had the same overwhelming sensation the first time I went to buy some shampoo and found the one I loved had been discontinued. So I replied and kept replying. Decided it was past time for me to write a post about what I look for and what I avoid when it comes to buying sheets.
What I Look For in Sheets
I can remember a time when I bought whatever was on sale cause that's what my budget allowed for. The sheets I had would be replaced next time I moved and I moved pretty frequently. Once I bought a home and decided to make my bedroom a bit more mine, I decided to spend money on neutral colors or higher quality sheets, pillowcases, and duvet covers.
Suddenly, all the things I had learned about cotton fiber quality and textiles was put to work (thanks Cotton Inc for all the lessons!). So here's what I look for and why:
Cotton — I know with a social media handle like JPlovesCOTTON, it seems obvious, but there have been times when I had some synthetic sheets. In general, the breathability of cotton is so awesome on my skin and I've always prefered it to be a bit cool at night. With cotton if I do get warm, it won't make me progress to being hot! Synthetic fibers will do that.
Pima or SuPima Cotton — It isn't as easy to find Pima and SuPima cotton in general as I'd like, but it is amazingly smooth and stronger and finer than upland cotton. Those are all good things with sheets so I look for it. Egyptian cotton has this similar reputation and shares some of the qualities, but I like knowing I'm supporting US farmers and know first-hand how they care for the environment, etc.
Thread counts — Thread counts can help the sheets feel smoother as well as help the wear of sheets. I have 600-800 count sheets right now. What do the numbers mean? That's the number of threads in an inch of fabric, which also means the thread needed to be made with long, fine fibers. While it seems thread count keeps reaching new heights with the new technologies in cotton genetics, weaving and spinning, combined with Pima fibers, there tend to be points at which the costs are significantly higher. I tend to look at what makes sense to the touch and price. Some of the sheets I have now have lasted 15 years or more.
Flannel sheets — I love flannel sheets in winter and any cool months but will confess that once the air conditioning comes on, I change out for standard percale sheets. Those are smooth woven sheets. Either way, I use the previous notes along with a good touch test to decide on what to purchase when I need new ones! Gotta tell ya, I've never been a fan of t-shirt / knit sheets.
What I Avoid
Since I said I'd speak to both what I seek out and avoid, I guess I committed to do this. Again, these are just my guidelines… not law of the land.
Egyptian Cotton — A long time ago, Egyptian cotton held a special places in the heads and on the beds of lots of people that's because there are a few different types of cotton quality and they are related to the species of cotton. At the time, Egypt grew Gossypium barbadense which is known for its extra long staple (cotton uses ELS as an abbreviation a lot) and U.S. grew Gossypium hirsutum but the reality is Americans have been growing ELS cotton since the early 1900s, starting in Arizona with the USDA and the Pima tribe of native Americans. Other ELS cottons include Pima, Egyptian/Gizas, Indian Suvin, Chinese xinjiang and  Sea Island cottons. So a current preoccupation on Egyptian cotton is due to marketing a lot like focusing on champagne when sparkling wines made in lots of countries are just as amazing! And besides, folks like my friend Cannon Michael grows Pima cotton in California (you may remember I went pheasant hunting on his farm for my birthday one year!). So I prefer to go with Pima, SuPima and now PimaCott which are US grown.[clickToTweet tweet="I had no idea what kind of sheets to buy, Egyptian? 1200 count? ARGH! This helps" quote="I had no idea! "]
Microfiber — I know microfiber feels soft, but the feel to the touch is only one piece of what I look for, how well it breathes is a different feel altogether. So for me I like layers that can breathe when I'm sleeping. Polyester and other synthetic fibers are the worst on this count.
A New Brand I Keep Looking At
I love knowing I'm supporting my community and in this instance, it is a bunch of my friends who are U.S. cotton farmers! One easy way to do it is by buying Pima cotton brands, but a newer way which is really interesting to me, is buying straight from a cotton farm in Alabama selling their farm to fabric products through a company called Red Land Cotton — yep, they have red dirt in northern Alabama.
Mark Yeager and his daughter Anna Brakefield came to our office a year ago to tell us what they were doing. They found some heirloom sheets that were in a friend's cedar chest and realized how much more substantial they felt than today's linens. They started talking to various people in the cotton industry to figure out how to make them. And today, you can buy a set of sheets, pillowcases, even kitchen towels and napkins knowing that the cotton started on the Yeager's farm, went through the spinning, weaving, sewing process, all in the Southeastern US. You can read all about the family, the farm, how the sheets are made and more on the Red Land Cotton blog, their Instagram and Facebook channels.
I haven't needed to buy any new sheets in the last few months, but I have a feeling I will be considering these when I do. Again, they don't feel the same as the ones you buy at a department store, they'll feel more like the sheets our grandparents had.
Did I miss anything?