When you look at cotton overall, the crop can be improved in a variety of ways. For some, adding irrigation to their crop production would be an improvement while others may find that being able to move from hand labor to mechanical labor is an improvement.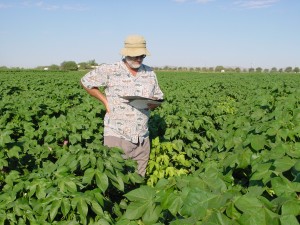 Another way to improve cotton production is to look for new cotton varieties — that would be the types of cotton seed people plant. Right now, if you look at the company I work for, Monsanto, which has a brand of cotton seed called Deltapine, we have plant breeders who focus on that type of improvement as do several other companies like Dow & Bayer. You also have public breeding programs within the university extension programs at places like Texas A&M and Louisiana State.
These plant breeders look at all the cotton varieties that are commercially sold around the US and those that grow natively around the world and think "what can we do to make a better cotton plant?" Then they work with all the varieties to help make pairings that may result in new combinations. Maybe the new combination they are looking for has better lint yield so the farmer harvests more cotton, maybe they want to make a current variety less susceptible to a disease that bugs bring into the field, or maybe they are looking to improve the quality of the cotton harvested so the fiber is longer and stronger which makes a better yarn.
All of these things are looked at scientifically, with detailed ratings systems that are used plant by plant. Any of those things would improve cotton varieties and be done through breeding & variety improvement.
Here is a video my office put together that explains some of the pepper variety development programs we have, the concept is the same for other crops, just different characteristics.
Thanks Larry
Writing about cotton genetics was a really good way for me to reflect on conversations I had with one of the cotton breeders I worked with at Deltapine what seems like forever ago. Larry Burdett had an incredible passion for the topic, he was an avid reader and loved the history of the crop, going so far as planting really old varieties of seed just to see it for himself — his nursery was the only place I've ever seen Sea Island cotton.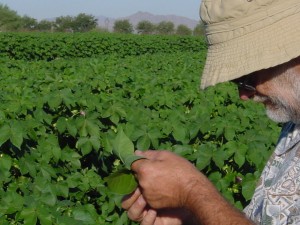 Sadly we are mourning his passing right now. But at least I feel I am smarter about cotton thanks to all my conversations in Arizona fields with him. This photo of him is from a morning in the field where he helped me understand his rating system for leaf smoothness / hairiness. You can see, he's pulled a leaf off of the plant and is looking at the underside of the leaf. leaf hairs are interesting because they can present problems of contamination at times. How smooth or hairy a leaf is also has implications for how much some bugs will like the plant! Such seemingly little things make a big difference in cotton!
(Part of this answer was drafted in response to the question What is cotton variety improvement (in simpleton explanation)? being asked on Quora. Like everything on my blog, I wrote this out of personal interest, not any business reason for my employer.)