My friend David Hayden asked me today whether I had a top 10 list of cotton states. He tweeted:
@JPlovesCOTTON do you have a blog post with the top ten #cotton producing states or know where I can find such a list?

— David Hayden (@Davidhayden7) August 26, 2012
I didn't have a top 10 post and as I sat down to research and write it, I began pondering how in the world I could work that out. I am sure that this sounds like a super easy question to lots of people but I had several ways to think about a top 10 so rather than do one, I am going to do a few of them. You can see some of the options in the text of the latest USDA Crop Production Report's national numbers for 2012 (for 2014 cotton production, please see this post):
All cotton production is forecast at 17.7 million 480-pound bales, up 13 percent from last year. Yield is expected to average 784 pounds per harvested acre, down 6 pounds from last year. Upland cotton production is forecast at 17.0 million 480-pound bales, up 15 percent from 2011. Pima cotton production, forecast at 663,000 bales, is down 22 percent from last year. Producers expect to harvest 10.8 million acres ofall cotton, up 14 percent from 2011. This harvested total includes 10.6 million acres of Upland cotton and 233,400 acres of Pima cotton.
Top 10 Cotton States in Acreage / Area to Harvest in 2012
This year, farmers in the US had some reductions in cotton acres as more farmers in the Cotton Belt looked to make money planting a corn crop. That seems to have worked well for quite a few of them too. There were more than 10.8 million acres planted to my favorite fiber though with almost half of those acres in Texas! Georgia was another big area for cotton planting and we will see whether or not Hurricane Isaac has any impact on the anticipated 1.2 million acres to be harvested there. (All numbers listed in thousands.)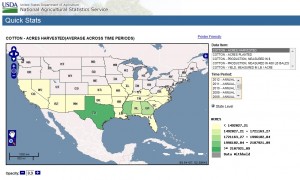 Texas                   5,215.5
Georgia               1,245
Arkansas             570
Mississippi          570
North Carolina   545
Alabama              387
Tennessee          375
California            363
Missouri              355
South Carolina   278
Top 10 Cotton States in Production / Total Number of Bales in 2012
With the incredible number of acres Texas has, it is probably no surprise that the Lone Star state takes the lead in the number of cotton bales produced! In fact, many of the top 10 states in terms of acreage do well in showing up production-wise. Note: cotton bales weigh an average of 480 pounds each and can make a lot of awesome textiles!
Texas                   6,725
Georgia               2,400
Arkansas             1,200
California            1,145
Mississippi          1,100
North Carolina   950
Missouri              675
Arizona                658
Tennessee          590
Alabama              580
Top 10 Cotton States Per Acre Production / Yield in Pounds Per Acre in 2012
You can see from this year's numbers as well as the averages over time that areas of the Cotton Belt where weather was good for production really excelled compared to the traditional deep South areas where drought was a problem in 2012. Arizona and California tend to produce high pounds per acre whereas some of the other areas can tend to be a bit more variable.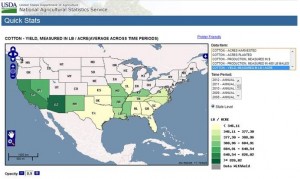 Arizona                1,564
California            1,514
New Mexico       1,058
Arkansas             1,011
Mississippi          926
Georgia               925
Virginia                914
Missouri              913
Louisiana            873
Florida                 857
Value of Cotton by State
Obviously, with that many acres, bales, and pounds, cotton is a major part of the economy in several states. I stumbled on this map of the value averaged over time and thought I simply had to put this map in the post too. It appears that the top states are:
Texas
California
Arkansas, Georgia, Louisiana and Mississippi
Arizona and Tennessee
Alabama and Missouri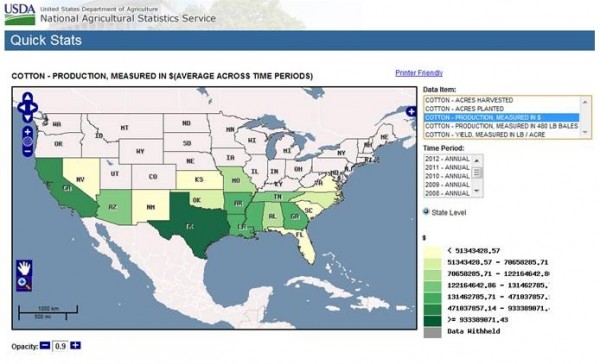 What do you want to know about cotton?
I hope this gives you some cotton info to think about…. next up, I really need to write one about how cotton farmers spread their harvest cause my friend at The Cotton Boll Conspiracy has waited so patiently for an answer to his question! I've had to gather a few other opinions on that one as it's not as cut and dry as the top 10 by the numbers! I'll be more prompt in answering other questions. 🙂