I have "liked" lot of brand pages on Facebook and have to admit, some of them eventually get unliked or hidden cause they just don't seem to get the kinds of things I'd be interested to see from a brand. But some friends saw the Lee Jeans page this week and knew they had to call it to my attention. Jodi Oleen was the first to shout at me! And they were right! I was pumped! Look at the photo Lee Jeans shared!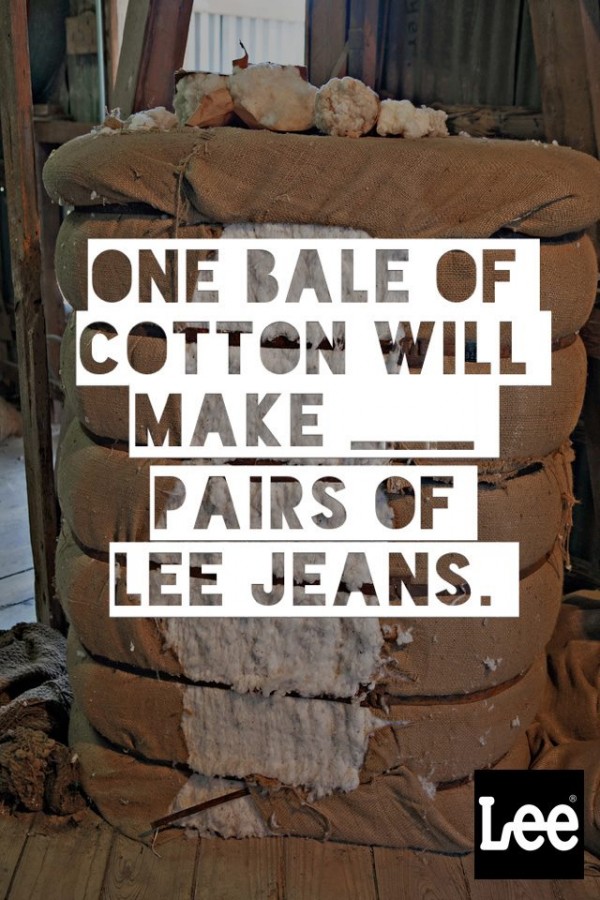 So…. how many pairs of Lee Jeans can you make from one bale of cotton? Well, I'll give you a hint that Lee didn't give fans of its page. A bale of cotton weighs just under 500 pounds. With that hint I hope you don't low ball it too badly. Some of the guesses on the Lee page were obviously not made with that factoid in mind cause I saw one or two guesses that assumed bales were the size of one on my bookshelf!
More than 1,200 people guessed – some of whom definitely did a little internet research. I have to wonder if some of them found an old post of mine where I gave a chart of how many of this or that you could make from a bale. For jeans, you can make 215 pairs! Here are some of the other quantities of various cotton items you can get from a bale of cotton, according to the National Cotton Council, one bale of cotton can make:
215 Pairs of Jeans
249 Bed Sheets
409 Men's Sport Shirts
690 Terry Bath Towels
765 Men's Dress Shirts
1,217 Men's T-Shirts
1,256 Pillowcases
2,104 Boxer Shorts
2,419 Men's Briefs
3,085 Diapers
4,321 Mid-Calf Socks
6,436 Women's Knit Briefs
21,960 Women's Handkerchiefs
313,600 $100 Bills
If I get to pick, I think I'll take that last one! Yes, I will take the more than 300k $100 bills!
Another thing to note, bales used to be wrapped in that nice burlap. it helped keep cotton clean and was pretty cheap, well now, bales are wrapped in plastic bags. It keeps them clean, doesn't run the risk of sticking to the lint (you wouldn't want burlap fiber making it into your 500 count sheets!)