One of the great things about openly sharing my passion for my favorite fiber, is that by making people aware of that passion, I enable them to share it knowing I will greet their photos or tweets with excitement! That's exactly what my friend Miss Dazey expected to get when she shared this photo of a custom-painted truck with me earlier today.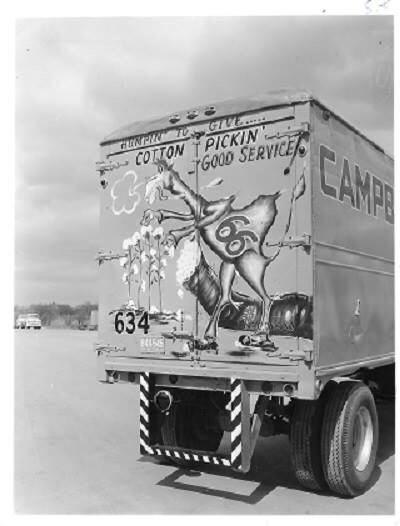 Miss Dazey's dear husband, Mr. Bruce, is busily preparing for a presentation he will be giving this weekend to the American Truck Historian Society convention this weekend in Springfield, MO. With that presentation of 60 years of history in 45 minutes, he has been looking through his extensive photo files and when one was unearthed showing the truck above that had a custom-paint job for hauling in the Mississippi Delta surfaced, it got ear-marked as something I should see.
The truck was painted in the 1960s using Campbell 66 Express' camel mascot Snortin' Norton. It was common to paint the trucks in unique ways. If you move forward to today, I have to wonder if they were predecessor to the U-Haul trucks with various states on them. Gotta love that the goal was "cotton-picking good service" and that Norton was even hand-picking cotton which is interesting since mechanical pickers had already been introduced to the area and been gaining popularity but I have to admit that the cotton-picking camel is pretty darn cute!