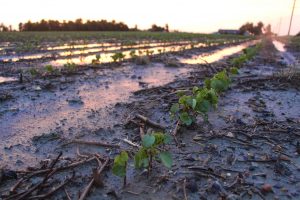 This is one of those weeks where it is easy for me to wish I was traveling even though I am so excited to have spent the weekend at home. The reason I kind of wish I was traveling? The National Cotton Council held it's annual meeting this weekend and you know how much I love some of my cotton folks! But it is also a great time to catch up on what's happening and what the expectations are for 2018. It is a topic that gets a lot of mindshare right now as farmers are buying seed and getting ready for planting across the belt.
One of my favorite parts of the annual meeting is the announcement of the planting intentions survey results. This year the survey found that U.S. cotton farmers intend to plant a bit more cotton — 13.1 million acres. Last year it was 12.6 million so the new figure means 3.7 percent more. I'd like to think that's cause I bought a couple new pairs of jeans and some heavy cotton sweaters & sweatshirts this month!
Since several of you have routinely seemed interested in the facts and figures of cotton, I want to share some of the details from the report too. And since some of us aren't numbers people, I'm making a video version of it for us! Visual learners like me can choose how this works right?
A few facts to give a shout out to from the NCC release:
On average, each acre yields 842 pounds (less than two bales)
Most regions of the Cotton Belt expect to increase acres, but the Mid-South is down 0.1 percent with a 5.5 percent reduction in Mississippi being the biggest drop in the region. Arizona has a sizeable drop as well leading the Far West to be down 6.8 percent.
Farmers in the Southwest are really driving the increase. Kansas farmers intend to plant 55.3 percent more!  While Texas acres aren't rising that much, the state will likely remain home to more than half of the U.S.' planted area.
And in case you wonder how much cotton is planted in your part of the world, here's the chart detail: