Walking through airports, chilling at a concert or just wandering the aisles of the grocery store, I've long loved wearing t-shirts to share my favorite farmers, crops, etc. It is such an easy way to start a conversation. I've bought quite a few from various sites and some beautiful people have given me some.
With the new logo, my creative juices surged and I decided to do something a few friends have done. I've designed some things that I hope will make it easier to share the love of cotton (some 100% easy and some are a blend of fibers). And I took a while to unveil it because I wanted to be sure of the way things would look.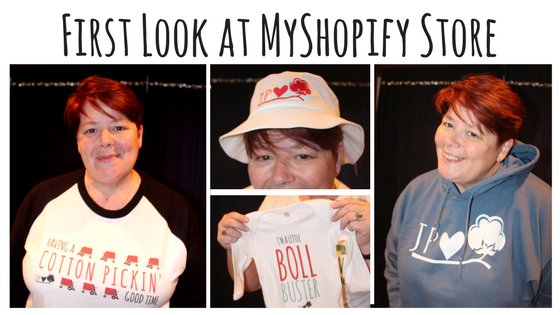 From now on, there is a new section on the navigation bar — the site's store. And at the end of this post, there is a discount code to help get this moving along!
Fun Stuff, Cotton Themes
There are lots of places where you can get a shirt that has the Cotton Inc logo on it or something if you live in small towns in the South, but I rarely get there and some friends never do.
Besides, I have a different relationship with cotton than some. And my humor is a bit different, especially when it comes to cotton vocabulary. Those things come together for a few primary themes for clothes, etc in the online store.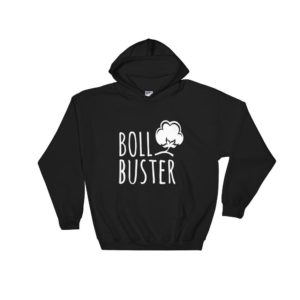 Boll Buster
With the fall upon us, cotton farmers are trying to be sure all the bolls in the fields are burst open. And yet, when you think of people sometimes the ones that get out of hand… they may be called something close to boll buster. So… there are some things that sort of suggest that.
You can see the onesie for kids above, and then one for adults is a bit more brazen about it.  You can see the products in this group by filtering the catalog for boll buster (or click on this link).
Cotton Pickin' Good Time
Harvest is definitely a favorite time of year! I have so much fun getting out to see cotton pickers roll, that I had to think of a way to put them on shirts.
I even went through the process of building red and green pickers to look a bit differently so I knew I would be ok with folks with different allegiances.
And I've really stoked about what I came up with. Even if I'm the only one that ever has one, this was worth it. I got a regular t-shirt in green and the jersey you see above in red. These are on the cotton pickin' good time list.
JPlovesCOTTON and I Do Too!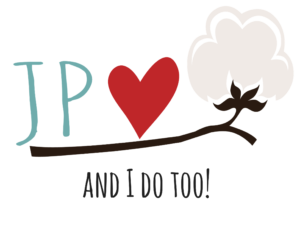 This site expresses my love of cotton on the regular, but it energizes me to no end how many other people share an intense passion for the crop that turns into our favorite clothes.
I hadn't even thought of doing something along this line but a good friend and regular reader who I gave a preview too asked about men's shirts with just the logo on it. I whipped this up and she celebrated!
It is a short spin on the new logo, crisp, clean and inclusive. There are a few things in the I do too! category, including coffee mugs.
You Never Forget Your First Stripper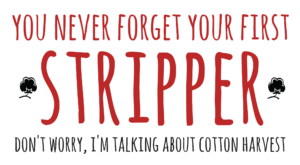 Not everyone is satisfied with a cotton pickin' good time, some want to see those strippers go for a whirl!
If you've ever driven or done a ride along during High Plains cotton harvest, you probably know I'm talking about a dance that is a bit different than some folks think of as they see the word stripper.
I just keep giggling at the thought of the looks on the faces of people…. only wish I had thought of the idea before I did my quality check order. Have got one on its way to me though — check out the You Never Forget Your First Stripper category.
Early Harvest Means Rewards
I love getting out for harvest early in the season. That's when the rewards are finally coming in. With that in mind, I thought I'd share the excitement of all of this by putting a discount code on the site for a couple of weeks.
I have no idea whether folks will want to pick up anything, but if you do, enter the promo code HARVEST17 and you'll get 17 percent off whatever you buy in the next 2 weeks (ends at midnight CST Sunday, October 6).
[clickToTweet tweet="Funny shirts and all that show a love for cotton. Gotta pick a fave or two! " quote="Share so your friends can get in on the cottony fun! "]