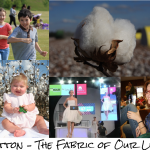 It has been a while since I have had a guest post in my series of cotton being part of our daily lives. I love that Ashley Messing Kennedy took me up on the offer.  She's a long-time friend who got me out of my comfort zone and into Michigan in the dead cold of winter.
Not only did I get to see ice sculptures while I was there, but I also had the chance to learn a bit about dairy farming and meet some of the dairy farmers in that area. It was a great experience for me. One thing I noticed…. folks in the dairy business were really interested in the fact I was so passionate about cotton, especially since they knew a very different side of my favorite fiber crop.

Cotton is Everywhere, Even in Cows
You know that saying, "You are what you eat"? If that truly is the case, the cows on our farm must be partly made of cotton! That might sound strange to you, but in a way it is the truth.

On my family's dairy farm we feed our cows a mix. In the mix; called a ration, we blend all of the ingredients in what we call a mixer wagon. Our goal is to provide the cow with exactly the nutrients she needs in each bite of feed she takes.

You are probably asking how this relates to cotton at all. One of our favorite ingredients is a leftover from the cotton ginning process. We actually feed our cows cottonseed.

We add the cottonseed in our ration because it has some wonderful advantages for the cows. With the type of digestive system a cow has they can eat a lot of things we cannot. (Editor's note: Can we eat cottonseed? may be an interesting read for you. 🙂 )

The oil inside of the seed is extremely healthy for cows. With the cows working hard producing milk, we need to make sure they are eating enough energy. The cottonseed still has some of the fibers on the outside too. The fibers are helpful in a cow's digestive system as well. In the same way we eat vegetables to keep our digestive systems moving and healthy, the fibers help do that along with other ingredients.

Although the cottonseeds are a leftover from the ginning process, what is one farmers trash is another farmer's treasure. In dairy farming we have found out that cottonseed is a valuable resource to help feed our cows. If you want to learn more about our family dairy farm come see my blog at MessyKennedy.com.
If you have a particular connection to cotton or simply have a favorite item of cotton clothing, feel free to join the series of guest posts. There's a lot more info here for your consideration.