Today's post is written by Billy Brozovich, a student at the University of Mississippi (Ole Miss). He had a project to write a story for three year olds and he decided to make cotton farming a central part of the story. I have met Billy a few times — usually as he stopped by his dad's office since his dad was my chiropractor and his parents are really close friends to friends of mine.
Anyway, parental pride and a friend's knowledge of my routine writing about cotton meant an email got to me! Thanks Billy for letting me share it with some more folks! ! I hope you get an awesome grade on the project!  And I hope we continue to find stories like these, with many in books that we can share with our children (or nieces and nephews 🙂 ) about farming!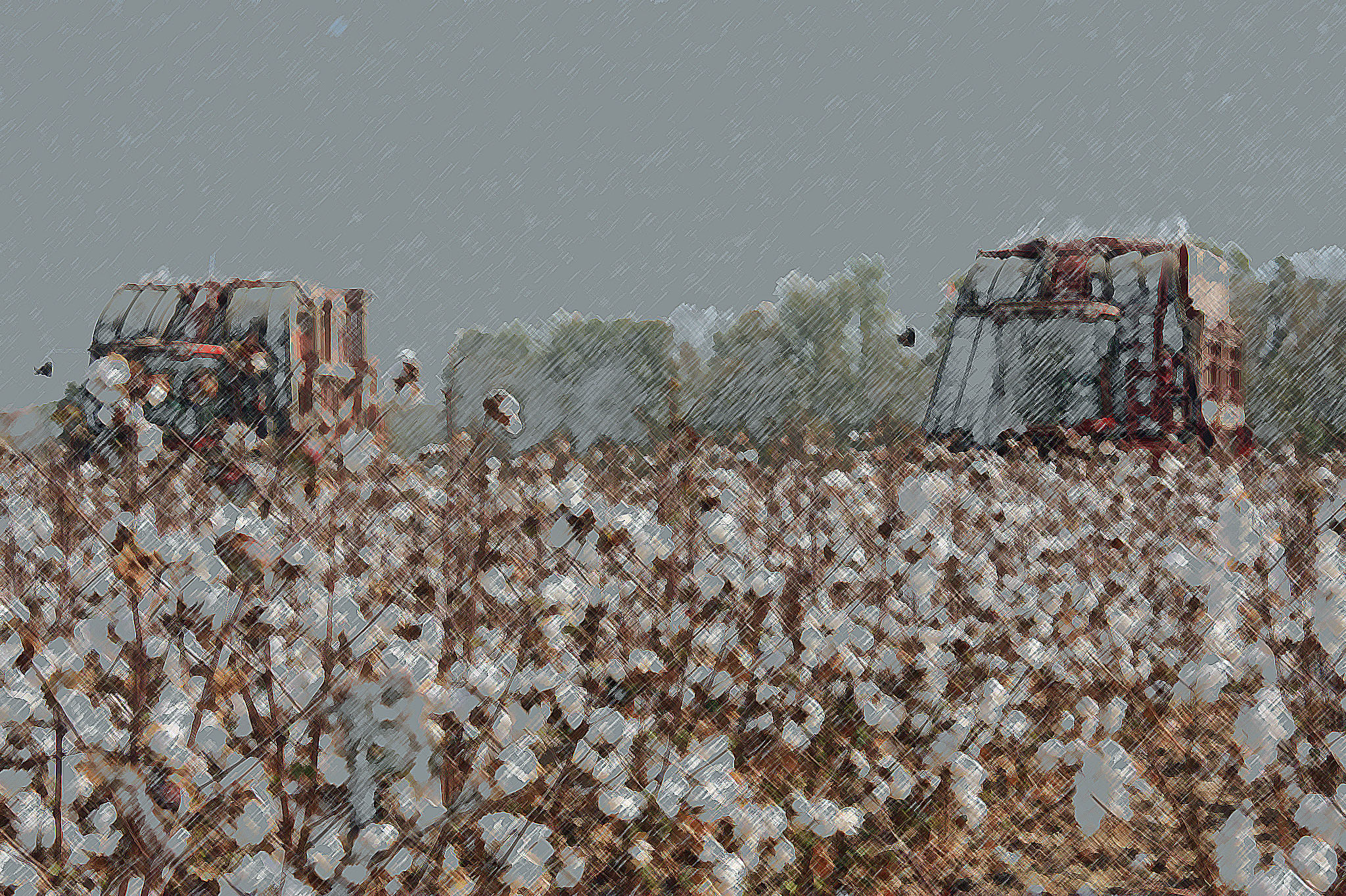 There once was a little boy named Eric who lived in Greenville, Ms.  Eric's Daddy has lived in the Mississippi Delta all his life where he learned how to farm.
Eric was three years old when his Daddy took him on his first cotton picker ride through the white cotton field.  Eric had a really fun time riding that cotton picker with his Daddy.
Eric watched his Daddy drive the cotton picker during the harvest seasons every year.  Eric could not wait to be able to drive the cotton picker by himself.  Eric asked, "Daddy, when do I get to drive the cotton picker?"  His Daddy answered, "Son, if you watch me closely and learn how I drive it then you I will let you drive it one day."
Two years passed and Eric turned five years old.  Eric still loved going to work with his Daddy and playing in the cotton field.  His Daddy had gotten him a toy cotton picker to practice with.  Eric asked, "Daddy, if I practice on this toy cotton picker can I drive the big cotton picker?"
Daddy answered, "I will let you be my co-pilot and sit in my lap and help me steer the big cotton picker next year if you practice hard."  Eric practiced every day and could not wait for that next year to help his Daddy pick that cotton.
The next year came and Eric could not sleep.  He was so excited about helping his Daddy pick cotton for the first time ever.  After five years of watching his Daddy and learning exactly how to steer Eric was ready!!!
Eric loved the farm, cotton was his favorite crop.  Five years passed so he now is 11 years old.  His Daddy asked, "Eric what do you want to do when you get older?"  Eric responded happily, "Dad, my dream is to be just like you and to be a farmer."
A few harvest seasons past and the big season came soon.  "Daddy, can I drive my own cotton picker yet?" asked Eric.  His Daddy responded, "Actually Eric, since you are 15 years old and you have watched and learned from me and have done all the things I have asked you to do, today I will let you start driving your own cotton picker!!"  He cranked that cotton picker up and started picking cotton all by himself.
One day Eric's Daddy told him they will own the farm together.  Eric was so excited and asked, "When?"  His Daddy told him he could own half after he graduated from high school and college.
So, of course, Eric studied extremely hard in school so he could own that farm one day with his Daddy.  He made very good grades.  Eric graduated college and got half of the farm.  Eric is now 23 years old, driving his own cotton picker and picking his own cotton.
Eric owns half of the farm with the person he loves the most, his Daddy.  Eric says, "Daddy, I love you so much and I learned everything from you and guess what Daddy, my dream came true, I'm just like YOU!!!"