I thought I may pull up some things from international agriculture experiences I've had. It's a bit of a change of pace so I guess we'll see whether folks like this one before I do a bunch more.
One of my passions is travel and another is agriculture, cotton in particular, so it should be no surprise to find out that when I took a vacation to Turkey, a country that is famous for both the crop and textiles, that the two would come together. And while the vast majority of my days were spent sightseeing and relaxing (Celsius library, waterfalls, beaches, etc.), I also planned to visit a textile mill and a few cotton fields.
The first few days were all tourist… other than to see cotton friends in Izmir and seeing a few fields as we passed at highway speeds since my travel mate wasn't an avid photographer or willing to indulge all my stopping requests. Those tourist stops included an incredible visit to Ephesus, yes the place known Biblically for the Ephesians who lived there as well as the home where Mary, the mother of Jesus, reportedly spent her later years. Shortly after my trip the Pope went to the same places, yes, THE POPE.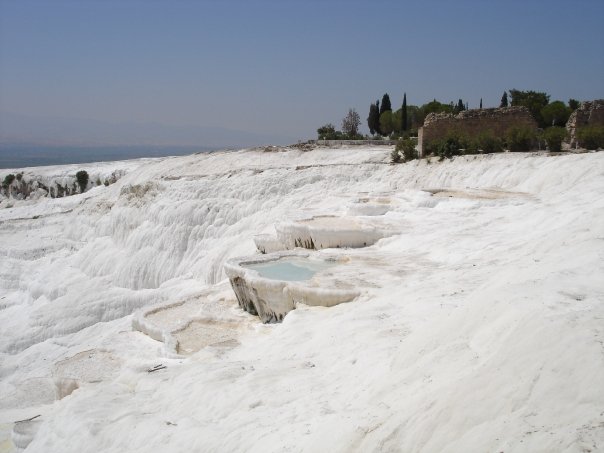 The first "cotton" stop was only a couple of days into the trip as we drove from Izmir on the Aegean Sea to Fethiye and the area that opened up into the Mediterranean, we stopped at a place called Pamukkale. "Pamuk" is the Turkish word for cotton and this place was given the name because the hot springs had turned much of the area as white as premium grade lint. But it wasn't really the crop, it was calcium deposits.
As the days went along, we worked our way to Antalya and while there, a customer called the friend I was traveling with and asked if he could come by and look at something. We had a great visit with him, his niece and the proprietor at the local cafe. But I think a visit to a farm a few days later left a bigger impressions.
This family farm — a father, his son & daughter — seemed like so many I had been to in the US from the discussion. Topics included how to cover more land to be more efficient, selecting the crops and varieties that would best produce, what to do with such a dry summer, etc. The topic that was unique was how they had decided to be among the first to machine harvest cotton. The daughter was pivotal in some of these key decisions, reminding me of a few US farm families I know.
I've got to find a chance to go back there! Great people, great food and great cotton products… who could ask for more?  Oh yeah, great beaches — they have that too!
Have you ever been to Turkey?