I love a day that starts with a friend alerting me to some cottony goodness! That's exactly what happened today as I checked in on Facebook and saw that my good friend Carrie Mess aka DairyCarrie had tagged me in a post! It read simply "Hey Janice look what's in this month's American Airlines magazine." and showed this photo: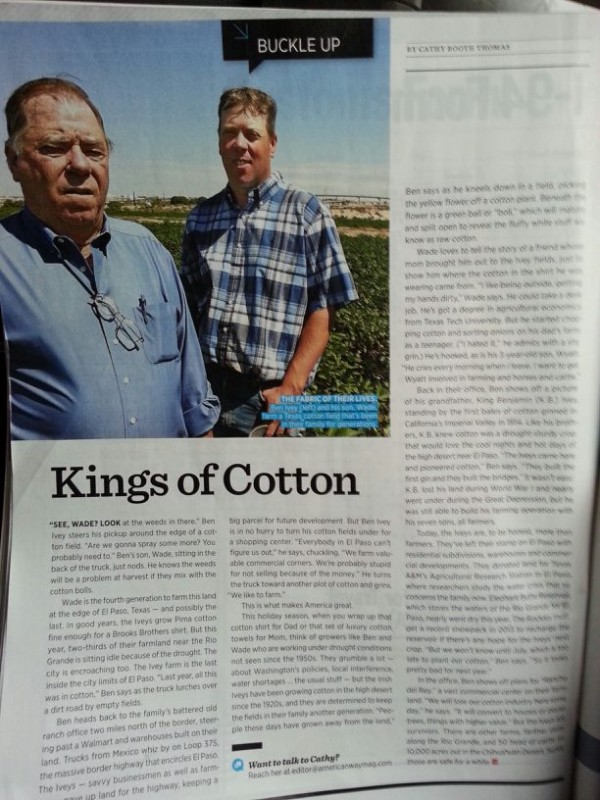 I did what any self-respecting cotton lover would do — searched the net til I found the article online so I could read it! The American Airlines magazine American Way is online, so it just took a little searching to find the Kings of Cotton article. The article starts:
"See, Wade? Look at the weeds in there." Ben Ivey steers his pickup around the edge of a cotton field. "Are we gonna spray some more? You probably need to." Ben's son, Wade, sitting in the back of the truck, just nods. He knows the weeds will be a problem at harvest if they mix with the cotton bolls.

Wade is the fourth generation to farm this land at the edge of El Paso, Texas — and possibly the last. In good years, the Iveys grow Pima cotton fine enough for a Brooks Brothers shirt. But this year, two-thirds of their farmland near the Rio Grande is sitting idle because of the drought. The city is encroaching too. The Ivey farm is the last inside the city limits of El Paso. "Last year, all this was in cotton," Ben says as the truck lurches over a dirt road by empty fields.

Ben heads back to the family's battered old ranch office two miles north of the border, steering past a Wal-Mart and warehouses built on their land. Trucks from Mexico whiz by on Loop 375, the massive border highway that encircles El Paso. The Iveys — savvy businessmen as well as farmers — gave up land for the highway, keeping a big parcel for future development. But Ben Ivey is in no hurry to turn his cotton fields under for a shopping center. "Everybody in El Paso can't figure us out," he says, chuckling. "We farm valuable commercial corners. We're probably stupid for not selling because of the money." He turns the truck toward another plot of cotton and grins. "We like to farm."

This is what makes America great.

This holiday season, when you wrap up that cotton shirt for Dad or that set of luxury cotton towels for Mom, think of growers like Ben and Wade who are working under drought conditions not seen since the 1950s. They grumble a lot — about Washington's policies, local interference, water shortages … the usual stuff — but the Irish Iveys have been growing cotton in the high desert since the 1920s, and they are determined to keep the fields in their family another generation. "People these days have grown away from the land," Ben says as he kneels down in a field, picking the yellow flower off a cotton plant. Beneath the flower is a green ball or "boll," which will mature and split open to reveal the fluffy white stuff we know as raw cotton.
The dilemma the Ivey's face with urbanization is fairly common. And I admire the Ivey's for choosing to do what they love rather than taking the easy paycheck and selling all of their farmland for commercial uses.
Christmas Gifts with Farm Origins
I agree! We should think about where our cottony good gifts come from! And I've got a few blog posts that may help you think through just that ahead of time!
The Ivey's grow Pima cotton. Do you know what makes Pima cotton different? I mean otherwise it would say they grow cotton since the vast majority of cotton is upland. Pima is a premium fiber that is longer and stronger than upland. With Pima fiber, textiles can be woven differently and that results in a finer, smoother feel. In fact, my favorite hoodie zipup is Pima. If you'd like to know more about Pima, including what those blooms look like,  you can read this post.
And if you are interested in some of the Christmas presents I gave last year that started on a farm somewhere, well, there is a post for that too! I declared "Farmers Helped Me With My Christmas Shopping 🙂" last year as I reflected on Christmas gifts with farm connections.
What's one of your favorite gifts that has origins on the farm?