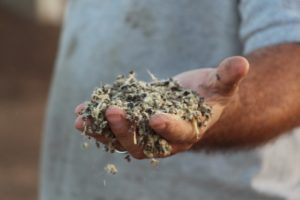 Cotton has been in food headlines, which has surprised some friends who gave me a shout with a link like this one from NPR — Not Just For Cows Anymore: New Cottonseed Is Safe For People To Eat. The idea of edible cottonseed isn't one may people have really pondered I guess cause when we think of cotton, we think of the lint that makes our clothing and some of us don't even think about the reality that there is also seed that is harvested at the end of the season.
Research on Cottonseed
But Dr. Keerti Rathore of Texas A&M University thinks bigger than a lot of us. I've had the chance to hear about his research several times and this idea he came up with two decades ago. To see his research is reaching reality is awesome.
Dr Rathore is originally from India. He's seen lots of farmers there and in other parts of the world who work incredibly hard on their crops but remain hungry, food insecure. A lot of farmers in that place are growing cotton. Cotton seed has a great nutritional profile however they naturally include a toxin to humans called gossypol. It shows up in the plant matter and seeds.
Dr Rathore theorized if he could remove the gossypol from the seed it could be a good food source grown locally and he's been working on it for more than 20 years! And whereas a lot of other genetically modified crops have been adding something, he eliminated gossypol production. Really cool work and I cannot begin to imagine the sene of pride for accomplishing something that can really help transform the lives of hungry people.
Here's a video Texas A&M did that explains.
With the USDA review complete, it means farmers could start planting soon however, the cottonseed will have to be held until the FDA review is complete. If the review comes back positive, the seed could be used as a food product, otherwise it would be used as cattle feed.
Why eat cottonseed?
The nutritional profile of cottonseed is pretty well known. My friend who is a veternarian explained how cottonseed is used in dairy feed offering a good source of fiber, energy and protein. Cattle can eat it because and those complex stomachs process the gossypol. As ruminants, they break down some things that humans can't — I mean we don't exactly graze on pastures. All of that is part of what makes the headline such a grabber that they got clicks.
Cottonseed oil is processed removing gossypol which makes it favorite for sauteing and frying. I use it in my Instant Pot pretty often. I really need to write about this a bit more!