It feels like I'm telling my age when I say that I remember how 1970s Halloween costumes were really basic, I swear the stores were just starting to sell them when we were little. At that time I thought a store bought one was awesome…. people hadn't gone pinterest crazy and, well, they came with a mask. Little did I realize how much I would enjoy making comfortable costumes later!
Comfort figures prominently into my ideals for costumes. And for that reason, you know cotton is high on the list! I'll share one I made & have enjoyed and a few I thought were particularly good.
Voodoo Medicine
Since I work in a field where we frequently hear people passing around the most absurd claims, sometimes I wish I had the power to magically strike people mute of woo. That led me to create a costume that lets me do some voodoo medicine too. The greatest part? Most of the costume is easy to pick up and run with.
The scepter draws alot of attention. I bought a corn wreath, removed one cob & replaced it with a large dowel I painted black to hold onto. Then I placed some feathers into the wreath and found a skeleton halloween decoration and attached it too.
I get to wear simple black — yoga pants and a turtleneck — carry a really cool prop, wear a funky (but pretty comfortable) mask & just tie some something around my waist. And it is something I have been able to let family & friends borrow…. it can be used by anyone who likes comfortable costumes!
Like Fashion?
So this one is funny and like I said, simple and comfortable. It is a play on The Devil Wears Prada. Simple t-shirt with the Prada logo on it (lettering that I'm thinking is easier done with fabric paint than found in some stores & definitely cheaper). With devil horns & tail. Go crazy and carry a scepter for that too if you find one.
This photo/idea is from Honolulu Magazine. They have a lot of costumes on the list that are fashion related.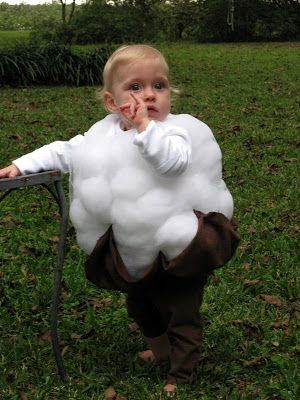 Cotton Boll Kid
Years ago I saw this photo Ashlee took of her daughter at Halloween in a costume the family made. Blair made the cutest cotton boll. It is the opposite of simple and easy, but it does look comfortable. And at that age kids seem to tumble, so maybe it would be a safety boost!
She's wearing brown leggings or pants, a white turleneck. I would love to talk to Ashlee's mother-in-law about how she did it but it looks like she may have made some sort of a slipover vest/dress with an outer layer of netting to help keep the tufts of fiberfill in place with a few places tacked in. There there are brown fabric triangles coming up from the bottom making the bracts on the cotton boll.
Is comfort an important part of costumes for you?