I am receiving compensation for writing this post. The opinions are all mine but I hope they share the love of cotton!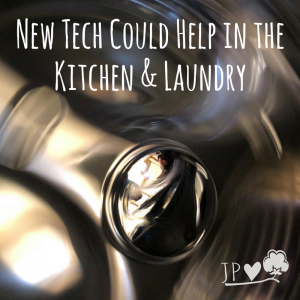 I love cotton from farm fields to my home, that's pretty clear with all the things I post here, but I haven't written as much about technology recently. Usually when I think of those two things together, I think of friends in Lubbock who monitor their crop irrigation from their mobile phones and cotton ginners who can be at a meeting states away and tell me about turnout or moisture. Last week as I was checking out the Best Buy suite at Mom 2 Summit, I found myself thinking about the connections between cotton & tech at home.
It may sound silly, but the LG washer and dryer they had really stood out for me.
That's what happens with cotton nerds… we see something as simple as a washer and dryer and have to know more. Granted they look great — I love the matte black and stainless steel much more than the set I have at home. But the looks were just the start.
For me, knowing fibers so well, having spent hours with experts in textiles, I look at washers and dryers on how they treat the fabrics I have and how they integrate with my home. The uses I have for them as well as how they look.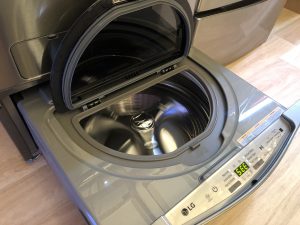 Seeing the small basket for some of my lingerie or other fine fabrics and the stainless interior, made me know they would meet some of those textile demands. But then we started talking high-tech and, well, I may have spent a bit too long talking with the person on point for the LG SmartThinQ! Eventually the suite was closed and I was realizing we had to go!
High Tech Differences
I have had my heating & air, some lights, etc on tech connected to my phone for years. Never knew I could do the same with laundry or kitchen appliances. WiFi & voice enabled appliances? Winning or too much tech?
Having a multi-floor home and always multitasking, I rarely hear the beep even when I remember to leave doors open, etc. Linking the Google Home, or my mobile phone to it would certainly help me stay on task! And anything that can help me get out from under stacks of laundry after a bunch of travel is a boon in my book.
And I have to tell you, I expect that it would save me energy… both electric bills and my personal energy! I have to confess to rewashing clothes cause I forgot them in the washer. Or failing to get things out of a dryer and restarting it to get the wrinkles out again. All of that requires extra clicks on the meter and trips up and down stairs. I always mean to get there and a SmartThinQ app notification telling me the wash or dryer cycle has finished would help me get back to it. Focus on one of my priorities for the day rather than the distractions that always come.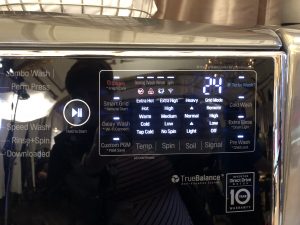 While I spent most of the time checking out the washer and dryer, it is cool to think the same app or Google Home or Alexa integration could help me get the things I want done with the refrigerator, range, dishwasher… I mean imagine staying in the living room while Google Home gets the stove warming and it letting me know that it is ready for me to pop in the food to cook! Or telling Alexa that I want the ice maker put into high gear for a party this evening.
If You Are in the Market
If you are in the process of upgrading your kitchen, imagine this setup. And Best Buy has a couple of bundles that will sweeten the deal! Both bundles are available May 10 through July 11, 2018. WIth the long holiday weekends, you should be able to find some time to check them out in store like I did at Mom 2. (I mean how much did I enjoy the knock on the door fridge with quick use items in an easy grab section?)
The LG Ultimate Laundry Room Rebate will give you up to a $400 rebate for qualifying LG models.
Summer kitchen bundle from May 10 to July 11. If you buy

4-pieces of the LG or LG Studio models, you can get a bundle rebate up to $400 INSTANT rebate.  
Check out the best LG has to offer at Best Buy and let me know which of the appliances & SmartThinQ technologies you can see helping you out at home!