(Editor's note:  This post will be updated annually in mid January with the most recent year's production numbers.)
When you are really close to something, you sometimes forget that other people will find things you know somewhat automatically of interest. That's the case with a couple of posts I've written over the past couple of years talking about the leading states. People seem to love to know where the most cotton is grown in the U.S. and today (Monday, January 12, 2015) was the day of the year that the USDA sheds more light about the past season! So…. guess how I'm spending my evening!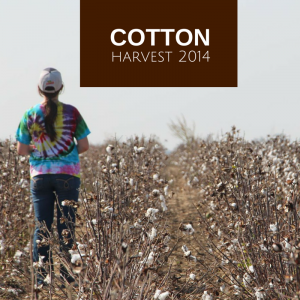 The USDA Crop Production 2014 Summary gives a lot of information and it will be poured over by lots of economists, media and more. This is my initial take on things related to my favorite fiber.
The Overview of 2014 Cotton
The Annual Production report always opens with quick overviews of each of several key crops. Cotton is one of the most important crops in the U.S. so it is always included in the summary. As I read it, I have to giggle how some of it seems to be a bit boring.
All cotton production is estimated at 16.1 million 480-pound bales, up 1 percent from last month and up 25 percent from 2013. The United States yield is estimated at 795 pounds per acre, up 22 pounds from the December forecast but down 26 pounds from last year. Harvested area, at 9.71 million acres, is down 2 percent from last month but up 29 percent from last year.
If I was to have written the same overview, it would have a lot more "color." Aw heck, let me go ahead and write one with the same information!
Wow! 2014 was a better year in cotton than we expected! Farmers produced more than 16 million bales of the natural fiber which is a little more than we expected last month and is up 25 percent from last year. When you look at the average yield, how much each farm produced on average, it was almost 800 pounds per acre. Again, we had low-balled it in December — by 22 pounds! Despite that gain, it is still down 26 pounds per acre. The acres harvested were up almost a third from 2013, clocking in at 9.71 million acres of cotton.
How many acres of cotton are grown in each state?
Cotton is definitely a Southern crop and the list of states growing my beloved fiber are mostly places where people who like warm weather feel most at home. Yes, cotton AND Janice love the sun & heat! There is one state that has amazingly large acres devoted to the fluffy fiber! Everything's bigger in Texas and that is certainly the case when you look at the thousands of acres planted. Texans planted more than 6.2 million acres of cotton in 2014! Georgia was a distant 1.3 million!
Texas:  6,217
Georgia:  1,380
North Carolina:  465
Mississippi:  425
Alabama:  350
Arkansas:  335
South Carolina:  280
Tennessee:  275
Missouri:  250
Oklahoma:  240
California:  212
Louisiana:  170
Arizona:  165
Florida:  107
Virginia:  87
New Mexico:  48
Kansas:  31
How much cotton is grown per acre?
It is interesting to me that cotton production varies so widely when it comes to how many pounds or bales are grown per acre! I You can see that California and Arizona have much higher production numbers per acre than Texas and Oklahoma in the chart below. Of course, the costs of production differ widely too!
Remember as you look at these numbers in pounds per acre than a bale of cotton weighs approximately 480 pounds… so while Texas and Oklahoma are only a little bit over a bale on average, California and Arizona were in the three bales to the acre zone! I sorted based on yield per acre.
California                 1,726
Arizona                     1,453
Virginia                    1,239
Arkansas                  1,193
Mississippi              1,183
Louisiana                 1,171
Missouri                   1,117
North Carolina       1,049
Florida                        914
Alabama                     910
South Carolina         898
New Mexico              878
Georgia                      876
Tennessee                 875
Kansas                       861
Texas                         581
Oklahoma                 578
Which states grew more cotton this year? Which grew less?
Looking through the numbers in the overview, I had to wonder, where the extra cotton came from this year. One way to look at that is to check and see which states had higher production per acre this year. I mean, every year some states do better than the year before and every year is seems a few fall on bad luck. So where did farmers grow more pounds of cotton per acre? Well, Virginia farmers definitely noticed the increase pounds in 2014 and the Southwest had a tough time.
Virginia:  298
Florida:  253
North Carolina:  250
South Carolina:  207
Missouri:  149
Alabama:  121
Kansas:  104
California:  98
Arkansas:  60
Georgia:  45
Tennessee:  22
Arizona:  8
Oklahoma:  -13
Mississippi:  -20
New Mexico:  -43
Louisiana:  -52
Texas:  -65
How many bales of cotton did each state produce?
When you look state to state, the yield per acre and the overall number of acres comes together to provide a look at how many bales of cotton each state produced…. but I have to say the acres grown really seems to catapult Texas to the top! The numbers are thousands of bales so Texas produced more than 6 million bales of cotton in 2014! That's a lot of blue jeans!
Alabama:  660 (+70)
Arizona:  492 (+8.8)
Arkansas:  820 (+100)
California:  755 (-188)
Florida:  200 (+25)
Georgia:  2,500 (+180)
Kansas:  52 (+11)
Louisiana:  410 (+84)
Mississippi:  1,035 (+316)
Missouri:  570 (+74)
New Mexico:  73 (+7)
North Carolina:  1,005 (+239)
Oklahoma:  265 (+111)
South Carolina:  520 (+160)
Tennessee:  492 (+78)
Texas:  6,013 (+1,828)
Virginia:  222 (+71)
More on Cotton
If you are interested in reading more about how cotton farmers produce this awesome fiber that becomes our favorite jeans and hoodies, check out my cotton 101 page where I have highlighted some of the many posts about cotton on the site! And you can always give me ideas for more pieces to write here in the comments section!