I giggle now and then when a farming friend somewhere tags me in a photo on Facebook. It's especially interesting when it's somewhere I haven't been or someone I haven't seen in a very long time. I've had photos of trucks, animals, fields and big rigs tagged as me. That's what was running through my mind when I saw a notification that Dane Sanders had tagged me in a photo.
Dane is a cotton farmer in South Plains, Texas — that's just west of Plainview for those of you who don't know. 🙂 Here's the photo he tagged me in: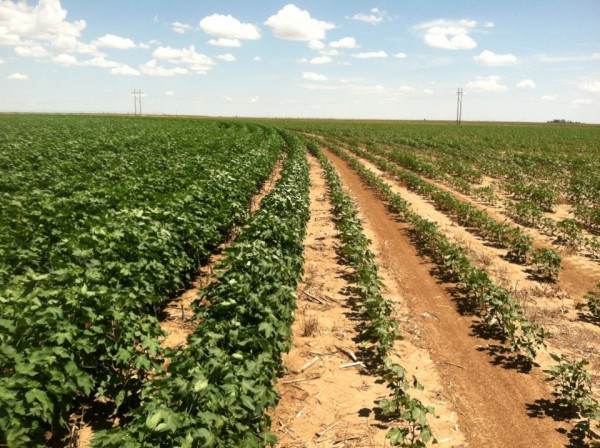 The caption said: "Left side of photo is center pivot irrigation and at the right side is non-irrigated cotton." Yes, there is that much of a difference in dryland and irrigated crops, especially in a drought year like this.
Cotton has the ability to put on a lot of bolls or very few. The plants on the right side don't have much yield potential at all. The irrigated crop on the left has several fruiting branches on each plant. Each of those branches is able to produce multiple blooms and ultimately bolls that result in yield.
As I drove through southern Missouri & West Tennessee this weekend, I saw lots of blooms at the top of the plants…. that means there will be no more fruiting positions created on the plants (the plants have cut-out). I can't be sure, but it looks like Dane's crop could keep growing a bit. Dane could really use a downpour or two. His crop may still be able to use the water to produce more cotton. In Tennessee & elsewhere, rain is needed to help live up to the potential that's there and to rebuild water tables. Finally, it would be nice to have some to take my lawn from brown to green.
I can't help but remember how the image has struck me in the past. In fact, one of the first Cotton 101 blog posts I wrote was based on the comparison of dryland and irrigated cotton fields in Dane's county. That day, I pulled out my video camera.
Lots of farmers in my thoughts these days as we all look to have food, fiber, fuel and more in the coming months!