Have you seen signs like this as you've driven around the backroads or interstates and wondered why a farmer would post a sign like this on his cotton, corn or soybean farm? I probably did at one time, but I've been in agriculture so long, that I just think of it as standard operating procedure. I've thought about answering this question for a while, but keep getting sidetracked. The question seemed to have been answered in what people thought was a logical way, but in fact it was a misunderstanding. The question came back up recently as I read this story about some new farm signs.
I never would have thought about any of this if the people at Illinois Farm Families hadn't done some research about why so many people think that America's farms are by and large, corporate farms. That's a big misperception when in reality, 94 percent of Illinois farms are family farms. One of the major reasons they thought the farms they saw were corporate-owned? They saw signs with some logos on them along the edges of various farms.
While I can see how people may make that connection, it's a little like saying Ralph Lauren owns my butt cause I wear Ralph Lauren Chaps jeans. And since clothes seems to be an analogy we all can relate to, I'll keep it going through the post. Besides, I have already picked a cotton based product and you all know I love cotton!
So why don't we look at the things that I can tell you about signs, and I hope if I don't answer your questions, you will ask them if you have any.
What do the signs mean?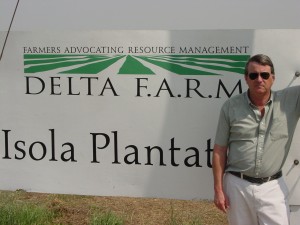 There are a few kinds of signs actually.  I've seen signs for seed varieties and crop protection products. There are various farmer organizations that put up signs for members and I really enjoy the ones that Delta FARM put up as farmers do a voluntary environmental program (wish I could find one in my photo archive! Well, by golly Delta FARM sent me one after I posted!). But most I see fall into the category of sharing information about seed or crop protection products.
They usually show the brand or company (the photos above show an old school D&PL cotton sign and one for DEKALB corn). Keeping the blue jeans analogy, you can buy the RL Chaps jeans I like or Levis. Usually if they have big numbers on them, those numbers tell farmers what variety or hybrid is planted there. Its kind of like when you buy Levi's jeans you can get 501 or 505 jeans. They are both made out of denim, but they fit different people differently and they may be styled differently, etc so Levi's may be your thing or Chaps. Sometimes the signs also include other information — maybe they have a marketing tagline like "The Cotton Revolution" or they could have biotech traits on them. There is frequently a way for farmers to tell whether it's a new or established product too.
Who puts the signs up?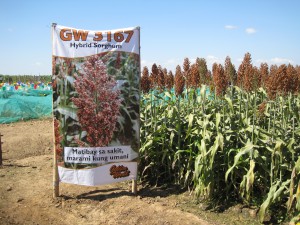 Thank God I've never had to do this job! Putting up field signs is hard work and is usually done by the sales person, agronomist or a trainee. Usually they are put up after visiting with the farmer about how his crop is doing, whether he has some varieties that are really performing well, etc. whether it would be okay. The sales people usually bring everything they need so they can put them up — that sometimes means a post-hole digger, posts, signs with different numbers on them, etc. It's a little different with clothing since the marketing designation is usually on them when they are bought, Levi's and Chaps put the tags on the outside of the jeans, but you could cut them off or you could buy a "generic" pair of jeans without brand labeling.
What kind of companies make signs for their products?
What kinds of fields and farms put signs up?All sorts of companies in agriculture make signs to draw attention to their products, it probably started with people putting the seed bag on a stick, but its gotten into a part of the marketing programs.
All sorts actually but since I see more row crop farms, I have seen more of those signs. There are signs for new rice varieties and tomato varieties. I've seen signs in the US and in several other countries — Turkey, India, the Philippines — and I've seen photos from dozens of other countries. The companies that use them range from big multi-nationals like the one I work for and small seed companies that are owned and operated by a family like a friend's in the Philippines. It's kind of like the fact that you have clothing labels all over the board…. premium clothes and the inexpensive, all seem to have some sort of label or logo on them. And although my mom didn't sign too many of the things she's made me, they were distinctive in other ways. Believe me, she had left her mark!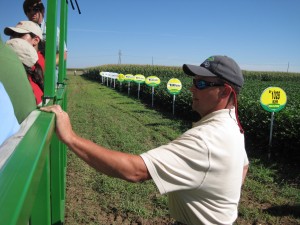 What's it mean when you see a bunch of signs in the same field?
One of the things you may see is a whole bunch of signs all in a line along the edge of a field. That is usually a sign (pun intended) that a farmer, university or company is doing a field test, pitting varieties or hybrids against each other to learn more about the various products.
These sites are usually selected based on the farmer's interest in knowing what new products are coming and how they will perform on his farm. There are lots of factors that can differ among varieties that would change how a farmer makes his selection (this post on selecting cotton varieties gives you some ideas of some of the factors).
What's really cool is signing these plots provides other farmers a chance to learn as well. And because this is a great part of the learning process, a lot of sites hold field days during which farmers gather to see what was tested and hear from a variety of experts. (And some serve the world's best porkchop for lunch too!) I guess the same could be said of a friend with a closet full of different jeans. You could take the time to try them on and see what you may want to buy or simply take a trip to the mall and try on a lot there. Whether you buy or not is up for grabs!
Are the field signs used for anything else?
Well, I know a lot of folks who will put one up in their shop or office, even had a college kid ask if he could buy one for his dorm room once. Otherwise, nothing else I can think of! You wear clothes with labels and occasionally I guess someone may want to put up an ad somewhere to show a preferred brand. Not sure the analogy holds though.
And one more thing….
Shannon Latham jotted a note down for me on Facebook and I agreed! "It might also be of interest to your readers that field signs help a farmer know a specific hybrid's or soybean's maturity. Not all hybrids and soybean brands can grow in every environment. Iowa's soils aren't fit to grow cotton or palm trees either." Her family runs a regional seed company in Iowa called
Latham Seeds
. She added "We call one plot, featuring a number of Latham's various products, a Latham showcase. It's like the "window display" at a department store." Love it and it certainly fits my jeans and clothes analogy!
What other questions do you have?
Related articles