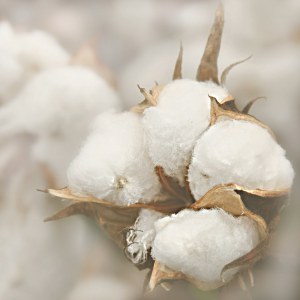 My friend Jasper Cunningham tweeted me one day asking me if I had some cotton facts on my blog. He seemed to enjoy several of the posts in my Cotton 101 series, especially the cotton dictionary, but I realized some quick and easy facts about cotton may be of interest too.
Type of Plant
Cotton is a perennial that farmers grow on an annual schedule. The plant wants to survive first and foremost. It focuses on maturing bolls and creating seed for future seasons second. Plants can differ in their growth from being columnar (where all the bolls are in fairly close to the main stalk) or bushy (where fruiting branches go longer & bolls continue to be produced further out on the branches.
Environment Needed to Grow Cotton
Cotton thrives in heat. It also prefers a bit of water now and then but doesn't do well in soils that hold water in the root zone — that means loams and sandy soils are preferred to clay-types.
What states in the US has cotton farmers in the population mix?
Coming west to east: California, Arizona, New Mexico, Texas, Oklahoma, Kansas, Missouri, Arkansas, Louisiana, Mississippi, Tennessee, Alabama, Florida, Georgia, South Carolina, North Carolina  and Virginia. I have to tell you a few other states have played with cotton acres too — I'm an honorary lifetime member of the Nebraska Cotton Farmers Association. 😉
Items Made from A Bale of Cotton
How many finished textile products can be made from a typical 500 lbs. bale of cotton lint? Below are a few examples of what might be made from a bale of cotton. (These numbers are approximations)
Men's dress and business shirts 800
Men's & boy's jeans 325
Ladies blouses and shirts 850
Ladies knit & woven dresses 350
Diapers 3,000
Pillowcases 1,200
How much cotton does it take to make?
The following examples are estimated amounts of cotton required to make these common consumer items.
1 Pair Jeans 1.5 lbs. (24 oz.)
1 Man's Shirt .6 lbs. (10 oz.)
1 T-shirt .5 lbs. (8 oz.)
1 Diaper .15 lbs. (2.5 oz.)
1 Bath Towel .6 lbs. (10 oz.)
Cotton in US Money
US paper currency isn't paper at all… it's a blend of 75% cotton lint and 25% linen. A 480 pound bale of cotton can be made into 313,600 $100.00 bills!
Cotton Facts & Global History
Sheer cotton muslin, woven in ancient India, was so fine that 73 yards of it weighed one pound!
In ancient Egypt, only the High Priest was allowed to wear a cotton garment.
Cotton is a member of the Mallow family of plants. The Arabic peoples called it "Qutun," which is where we get the word "Cotton."
Eli Whitney's cotton gin wasn't a new idea. The "Churka," invented in India 3,500 years earlier, was very efficent at ginning long staple cotton but ineffective on the short staple variety. Whitney's gin was the first gin to process short staple cotton.
Mills in Lancashire, England exported 7,000,000,000 yards of cotton fabric in 1913. That's an amazing 221.97 yards per second!
The Impact of the Boll Weevil
Between 1920 and 1922, the Boll Weevil caused cotton production in South Carolina to drop 70 percent!
Sources include: General knowledge I've built after decades in cotton, awesome friends at the National Cotton Council, Cotton's Journey – The Story of Cotton – COTTON FACTS, Cotton Facts! Bet you didn't know…...