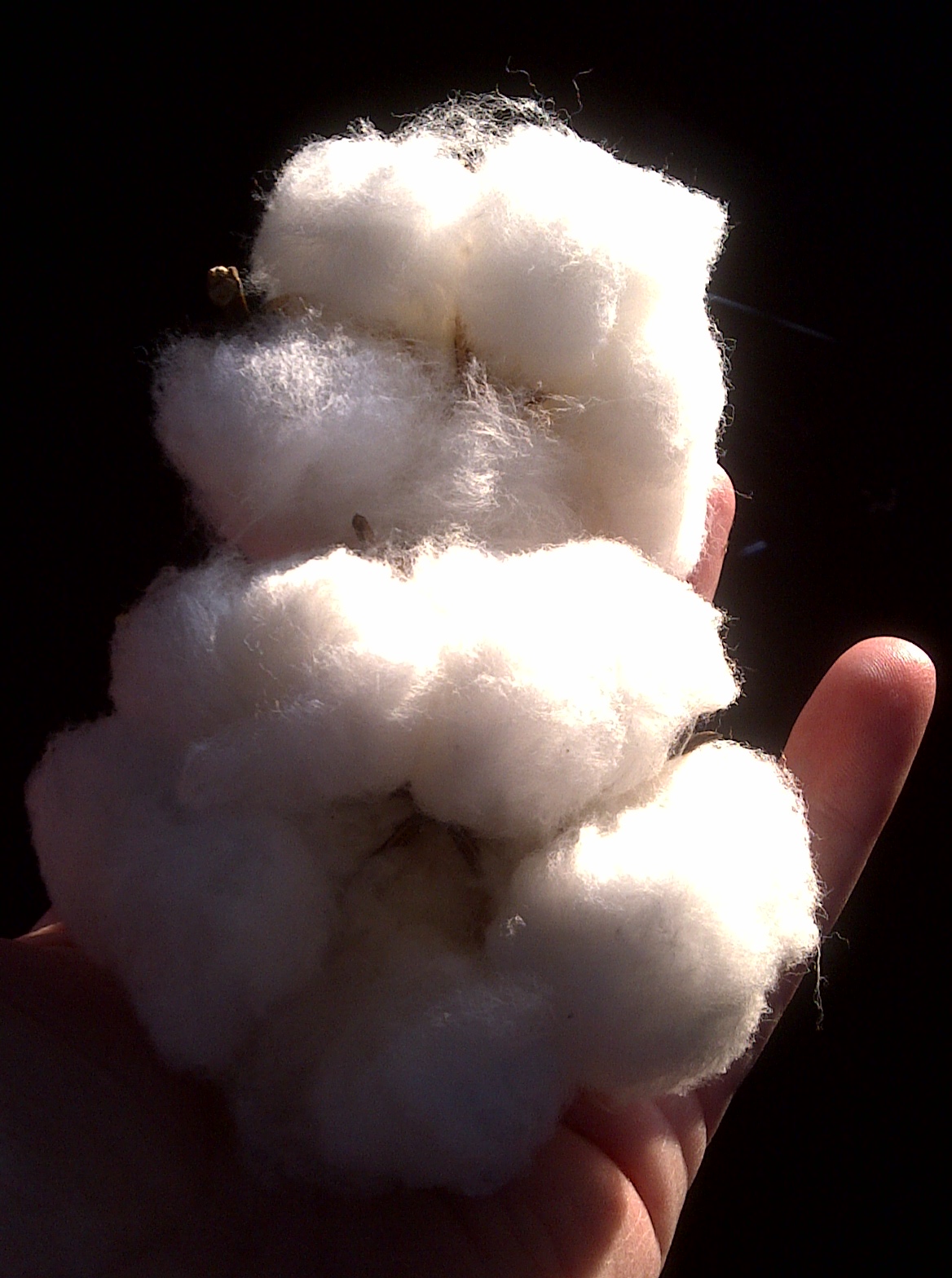 I took this photo last Friday and thought it was a beautiful shot to share on the blog. I mean to get it up on Wordless Wednesday, but the harried life didn't let me get it up here in time. Then I had it written and a technical glitch killed it. But I refuse to give in! I really want to share this. 🙂
The photo is of me holding two five-lock cotton bolls. When I looked at the photo on my phone later I was struck by a few things.
Sheer joy — The farmer I was visiting picked these as we walked along his cotton crop. I hopped back in the car and he reached over to hand three of the beauties to me saying "here are some five-lock bolls for ya" with a HUGE smile across his face. We were both thrilled (yes, it was Deltapine cotton).
The beauty of five locks? As I started writing this post, I realized I had forgotten to put "lock" in my working cotton dictionary. So let me explain locks for those who may not know what they are looking at. Each of these has five small sections, you can see them here much like cotton balls pulled together. But remember, this is right off the plant. Each lock has several seed in it and the fiber is connected to the seeds. More locks tend to mean higher yield potential in the field. I'd say its similar to finding more 4 bean pods in a soybean field.  (Popular culture aside: counting and locks reminds me of the Sammy Hagar lyrics "one, two, three lock box")
Two such different sizes — The difference in size seemed striking to me. The boll at the top part of the photo is either from the top part of a cotton plant or out toward the end of one of the fruiting branches further down on the plant. The larger boll was further down on the plant and toward the mainstem.
The photo itself — I am surprised how good a photo taken on my Blackberry looks when it was taken inside a vehicle! With the black background it looks like I was doing it intentionally when in reality it was a quickly snagged shot between stops in the field at the end of a long day.
What do you notice about the photo?