Following is a guest post by my niece Alicia who's currently working on her masters in education at the University of Memphis (she's the fourth generation of women in my family to go there!).  I've been lucky enough to have her living with me — we both seem to be enjoying it! I so appreciate her willingness to share what she learned her first time out on a working farm on this scale.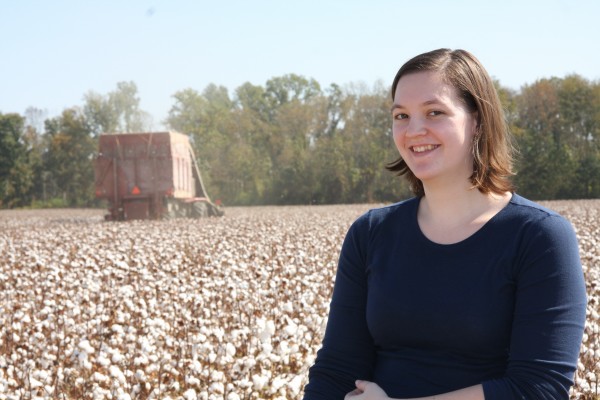 First I want to say that writing this blog is a little out of my comfort zone, but it was a lot of fun being in the field and I figured I would share what I learned for the rest of the people out there who know little about cotton farming, as I do.
With that disclaimer, let me start my blog post.
I recently had my first experience on a real farm that wasn't there for tourists.  Janice has worked in cotton since before I can remember and I have always been told how important it and other natural fibers are to our lives.  I went with her to a friend's farm to see how cotton was picked.  Being from a small town in the South, I am used to fields of crops and farm equipment, however, cotton is not grown near my hometown in North Carolina.  It was quite different from what I am used to seeing.  This was the first time I've been in a cotton field and been able to look at the bolls up close.
Being in the field of cotton brought up some thoughts about how things are made.  I wear cotton almost everyday, but rarely think about how it comes from a plant.  It's strange to think that a seed is what started the beginning of my favorite t-shirt but I digress.
We got up Saturday and got a late breakfast on the long (for Memphis) drive out to the farm.  When we got there, there were two pickers in the field along with a boll buggy, module maker, and a shredder.  Before that day I would not have been able to tell you what any of these looked like much less how they worked.  I'm not saying I'm an expert on them now, but I do understand the basics.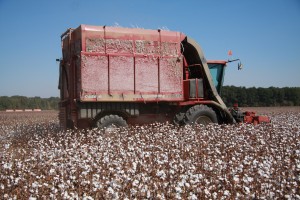 The pickers were two different models, one that built modules on board and one that doesn't, hence the need for the boll buggy and module maker.  We spent a long time watching the machines work in the field, while trying to stay out of their way.  My favorite time was when the two pickers were facing each other and it seemed like they were dueling, of course they weren't they were figuring out the rest of the field since they were now working in the same area.  Janice's friend Bob wasn't in the field when we got there, but showed up a little later with lunch for the all the guys who were working.
After the guys filled up on fried chicken I got in the picker that makes its own modules with Tim (there is actually a "buddy" seat for riders).  This was by far the biggest vehicle/machine I had ever been on besides a plane.  Tim and I headed through the fields of already picked and cut cotton to cross the street and head to a new field.  It was quite bumpy riding in the picker.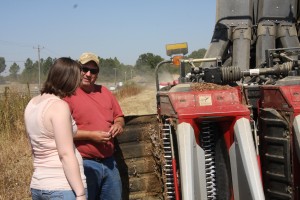 As we were crossing the fields I was noticing the different computers and technology inside.  This was something that I had never really thought about when seeing tractors and other machines in fields.  There were many conveniences inside along with the high tech gear.  One screen shows the exact location of the field as well as other information to keep track of the cotton.  There is one to show the images off the three different cameras on the machine and another to show how full the module is.
When we started picking in the other field, I learned about some of the differences between the two types of pickers. Who would have thought that the turning radius would be so different on two such similar machines, not me?  I know this because when there was just our picker in the field we weren't skipping any rows in between like before lunch when there were two in the same field.  I was in the picker for about an hour and picked one module full of cotton, well Tim picked it, I just watched.  However, it didn't seem like that much time had passed as it was fascinating to watch the cotton get pulled in by the six pickers on the front right below my feet.  It was also interesting because the plants themselves are left standing after going through hundreds of steel teeth.
After just a few hours on a farm I learned a lot about how things work.  Many things that are used everyday by me and my friends start in a field, which is strange to think about.  I have a greater appreciation to those that work out in the field everyday in order for people like me to have nice things than I had before.  I learned a bunch of stuff on the farm, and know that there will be more lessons coming to me from an ag standpoint while living with Janice.
If you have a chance to experience something like this I strongly encourage you to do so.  I had a lot of fun and have a great story to share with my future students.
As I mentioned in my blog post Friday, we are starting a series of Cotton 101 posts and I got energized to create a logo to provide a link to all of them as they come out.