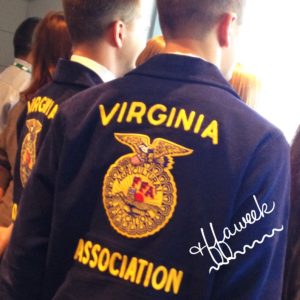 I have had a guest series of posts related to cotton getting a bit dusty. I needed to dust it off and get back into getting people to tell their stories of how cotton is the fabric of their lives here on my blog. I have been one of many  talking about FFA on social media this week (afterall it is FFA week or #FFAweek as a hashtag on Twitter, Facebook and Instagram and Facebook).
One of my tweeps — Jordan Simonson @Advocate4Ag who's blog is self-titled — said those blue & gold FFA jackets held a lot of stories. So I said write one for me! Afterall, the famed blue corduroy is cotton! And every FFA member or alumni I have ever met has an incredible attachment to the jacket. Like so many other stories though, it is the personal connections to that cotton jacket and all the great experiences that came with it that moved Jordan to take me up on the offer.
A lot of people have only heard about FFA, and may not really know much about it. I was one of them til I had the chance to get to know FFA members and participate in some of their programs including the Washington Leadership program Jordan mentions. Anyway, I hope you enjoy hearing his story!

What You Thought You Knew About FFA

The National FFA Organization, an organization synonymous with agriculture for many, but so much more for those that live/lived it. As an agvocate, I owe a part of who I am to FFA. It began my love for communications and helped shape my leadership skills so I was prepared for college. While there are thousands of people that have been a member of the FFA, there are still many who have not been a member. Below are the top 5 misconceptions about FFA that people who didn't live it could make.

1. FFA is for farmers

I  have heard this several times in my small lifetime, "Oh, you were a member of the Future Farmers of America?" as they sit there and ask a question in their minds, "but you're not a farmer?"

FFA has a very wide range of interests for students ranging from landscaping to forestry. It is no longer just about farming (even though we still love our farmers).

2. FFA is just a social club

While I spent a lot of time learning about agriculture during my time in FFA, I also learned about how to become a leader and professional. FFA leads many activities that help encourage leadership including Supervised Agricultural Experiences (SAE's) where students can actually start their own business or work alongside a business owner. I owe my professionalism and can-do attitude to FFA.

 3. FFA doesn't care about the entire community, just the agricultural community

While FFA understands that the agricultural community is important, it also understands that the community needs to serve the world to help make a difference. I remember my time at the Washington Leadership Conference where they taught us about being leaders through service. We actually went out and picked kale fields for the less fortunate so they could eat that night.

4. FFA isn't fun

You would be dead wrong here. FFA knows how to have fun, whether it is having a tubing party, or a Halloween dance, FFA knows how to have fun. Not to mention all of the contests are not only hard work, but it is really fun when you come away with the victory.

5. I could have never been / could never be a part of FFA

This is the biggest misconception about FFA. FFA is for everyone, not just high schoolers focused on entering into an agricultural field. FFA is giving the world the next generation that will solve world hunger, will help treat diseases, will help turn our hurting economy around. I may sound really confident about the future FFA will help build, but I see it every day at my job and where my fellow FFA members have taken their lives. By the way, you can become a member of FFA at any age, not just a high schooler.

FFA is a chance for students to become a part of the future, are you ready to jump in?

Posts by friends:
The Ranch Wife Chronicles — Ignite the Future of Agriculture. 
Monsanto Blog Inventing a Solution to the Kudzu Problem, is it Child's Play? 
Related articles