Last week I took several vacation days and while I found lots of time to see some brand new sights in New Mexico that left me at a loss for words, I also saw something so familiar…. something I hadn't really see much of. I saw a few fields of cotton. With my schedule this summer, I've mostly missed the 2016 cotton crop and it sure doesn't show up here much!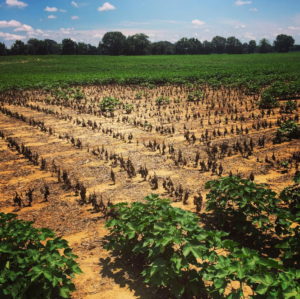 But while I was visiting my friend Jay Hill (check him out on Instagram and Snapchat) who grows a wide range of vegetables as well as has a few beef cattle, a bit of corn…. he also is planting his first cotton crop! He was nice enough to make a drive by several cotton fields, his and some of the other farmers in that area. It was beautiful too!
That combined with this photo from Bill/killemducks on Instagram showing what a lightning strike did to his cotton field last weekend made me wonder how everyone else's crop is. Having been in a lot of cotton fields over the years, I immediately recognized lightning damage… amazing how fast the cotton in that area is fried crisp!
I asked some friends to give me a quick update on their farms. Right now it is hot across most of the South, well and the Midwest too!
North Alabama Cotton 2016
Sam Spruell is a cotton farmer in North Alabama. And he thinks he may have the only furrow irrigated cotton (this means water is piped in on one end of the field) in Alabama. At least he doesn't know of any more in the area.
"It's only 50 acres but it sure is nice," Sam says. "We started watering cotton last week will put out 1.5 inches per week till we start getting bolls then up it to 2 inches per week till it's finished. It has been dry in my part of Alabama but some areas have gotten spotty showers. It is much easier to catch up with furrow than our pivots."
Texas High Plains 2016 Cotton
Long-time friend Barry Evans farms in Kress, Texas, up on the High Plains between Lubbock and Amarillo. For several years Barry has been working on was to conserve both soil and water — the wind and high temps are really challenging out there.
He sent two photos of his cotton planted in a way that is really conservation-minded.
Barry explains:  "This is cotton no tilled into wheat stubble. Irrigating in LEPA  (low energy, precision application) which is over 95% efficient. The stubble acts as a mulch to reduce evaporation, making every drop count. Also applying nitrogen fertilizer through the pivot, spoon feeding the crop only as it needs it."
South Texas Cotton
Friends John & Kelly Whatley are on the earliest end of Texas… where the US cotton crop frequently has the first bale of the year — yet to see for 2016 cotton.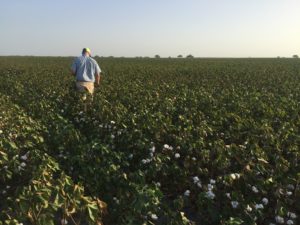 Kelly says, "We are defoliating in the Coastal Bend area of South Texas. The crop looks really good at this point. We had good spring moisture plus some rain in late May/early June to finish out the bolls. Crossing fingers the fiber turns out off the plant and in the gin as good as it looks on the plant."
Kelly sent some great photos…. love seeing cotton getting ready for harvest! Makes me ready to get into a cotton picker.
California 2016 Cotton Crop
Out in California, my friend Cannon Michael (remember that time I went pheasant hunting on his farm?) is growing a bit more Pima cotton than usual. With the weather in California, he can take advantage of those long days to make longer stronger fiber. He says the crop looks really good and points out that all the Pima he planted this year is "going to www.pimacott.com program. Sheets in Costco now. Bed bath & Beyond next."
I love how different the plants look… the flowers sure look a lot like their relatives the hibiscus! Unlike Texas…. California still has a ways to go! "We are still irrigating and won't shutoff for another month probably. Harvest looks like first week in October."
A Quick Cotton Tour
So there you go… a quick glance at the cotton crop across several states this week! Hope you enjoyed it as much as I have.