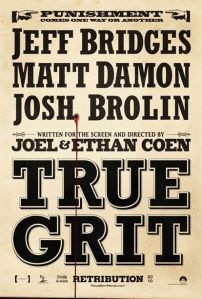 I just saw the 2010 remake of "True Grit." I loved the movie! Jeff Bridges, Matt Damon and Haille Steinfeld were all incredible! And yes, watching one of this years hit movies, a western no less, made me get to blogging! Why? Well, if you've seen the movie you may be able to guess, but I'll fess up. The movie made me wonder about a couple of things: cotton production in Yell County, Arkansas and historic prices for cotton lint. Yes, this lead (and the blog post to follow) is in large part my admission of being a total agnerd!
Cotton Production in Yell County, Arkansas
So…. let's start with the Yell County references. The character Mattie talked about selling the cotton from her family's Yell County farm in Little Rock, however she considered changing to a marketer in Fort Smith — both trading centers in Arkansas. In today's world, it is hard to think of western Arkansas as part of the wild west, but of course, knowing our nation's history, many areas were wild 200 years ago!
While I'm not intimately familiar with that area, I've traveled it some and can't say that I remember cotton fields there!
I pulled up a few sets of statistics from the National Agricultural Statistics Service's Arkansas Field Office. Based on the last few years data, I'd say that cotton is no longer grown in Yell County. There are lots of areas of the Southern US where crops have changed rather radically so it's not surprising. Cotton areas of Arkansas tend to be closer to the Mississippi River which have flatter land and deeper topsoils.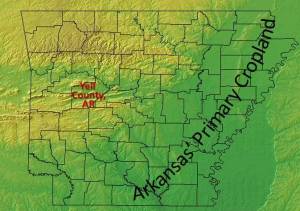 In fact, once I was able to find county specific cropland maps like this one from 2009 (I really think this is cool), it seems clear that most of Yell County isn't cropland at all. And I went back to a few historical records from the 1800s (including the 1840 census) and didn't even see Yell County on the list! By 1870 it was listed in the Census but I couldn't locate crop data. And since the movie's website suggests it was set in the 1870s, that sounds about right!
One of the benefits of being a real agnerd is knowing some of the places and people to get in touch with when your sleuthing turns up empty!  Enter the National Cotton Council's economist Shawn Boyd. He found the full 1870 Census which said Arkansas produced 247,968 bales of cotton that year with 3,671 of the bales coming from Yell County!
Cotton Prices in the 1870s
Trying to track down the price of cotton in the 1870s was exactly the sort of thing Shawn has helped me with previously (did I mention that the experts at the National Cotton Council rock?). I'm still not sure why I bothered cause a lunch time phone call (and likely a rather humorous voice mail to my economist friend Shawn Boyd was answered within an hour or so with the info I hadn't been able to find!
The conversation in the movie touches briefly on the price of cotton with Mattie saying she had gotten 11 cents per pound where they sold their early crop. And the Fort Smith marketer was offering 9 cents. According to the information Shawn pulled, the average prices for cotton lint in the 1870s moved around some (see the graph of numbers below thanks to Shawn 🙂 ) but 9-11 cents per pound is in the range for the late 1870s! Close enough to get Shawn to say "It seems like the book/movie was pretty accurate (especially if the movie took place in 1877, 78, or 79).  It looks like somebody did their homework when it came to the cotton prices."
And with that, I'm going to stop my agnerd moments inspired by watching a few short minutes of "True Grit." Sure am glad that it added up after I checked a few things out. For some reason I think I would have been totally bummed if the book or movie wasn't well fact-checked! LOL!