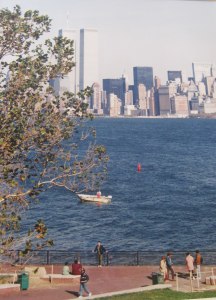 The same pictures come to mind every year on this day (September 11). Millions of Americans with a shared experience. Early in our days we heard or saw the events unfold in New York City and Washington DC. To say it is a formative event in our nation's history could be right but I think so much of the personal impacts.
Since I started this blog last fall, I haven't shared my personal account of 9/11 broadly but as I sit in the quiet of the morning, it is all I can think about suddenly.
As I've mentioned before, I lived in the New York met or area for a number of years. I have to say, moving to Mississippi from New York was an experience. And the fact I had done that raised a lot of eyebrows in the small towns I began calling home (one I lived in, one I worked in).
I had made return visits to New York including the 2000 World Series affectionally known as the Subway Series. Granted I couldn't afford game tickets, but I just felt the need to be among the electricity in the city that never sleeps when such a frenzy of baseball excitement was happening.
The morning of the attack on New York, I was headed to work – it was a 30 minute drive in my Jeep and early September was the sort of time where all cares could be blown away by putting the top down and a light jacket on. I got to the office a bit late and everyone had been looking for me. I hadn't heard my mobile phone ring thanks to the wind and the music pumping. Looking back, I am so glad I didn't.
But upon my arrival at the office, a colleague asked if I had heard about what was happening in New York. My expression made it clear I had not and I tried to process the story of a plane crashing into a building. We went to a TV and shared the horror of others. I could have spent day and night there.
One of my major thoughts was how I had been to lower Manhattan recently with the company president, CEO and CFO for an investor event. We had held it in the Marriott World Trade Center but I walked a mere two-three blocks to a friends apartment and had the most stellar view I could think of – looking one way, the splendor of the World Trade Center and the other the light from the Statue of Liberty. I had been jealous of the opportunity the friend had as I enjoyed it, now I was scared to death for him.
I watched for a while and saw more unfold, the second plane and the towers as they crashed. I decided I couldn't watch TV any longer and went to my office in shock. Somehow I thought I would find news of friends – sent emails to all in New York City saying my thoughts and prayers are with them and I hope to hear from them soon. I then started sending messages to friends outside Manhattan asking that we help keep others up-to-date.
I was so incredibly lucky to be shaken out of this zombie-like state. There was a group of farmers from South Texas who had come all the way to Mississippi for a field day. I was supposed to host them for their tours! I had to get right on that. Having something that required me to focus on something else was critical, even if at the time I may not have been quite as on top of things as normal.
Of course, nothing was normal that day. All the farmers had called family & loved ones to assure them they were fine. They were looking for news from family and friends who lived or had traveled to New York or Washington DC that fated 9/11. But they all wanted to go to the field too knowing the news would come as available so that's what we did. And as we came in from the field after a couple of hours, we caught up on the latest news with everyone. And began to wonder how these guys could get home. It seemed everything unfolding was impacting my small part of the world. I could only imagine what it was like in the area I had once called home.
Our salesmen had rented vans to get to Scott from the airport. After a lot of discussion, it was decided the group would fill up gas tanks and start driving home. They figured it would get worse before it got better and we were going to have a lot of trouble getting 20 seats on a plane. These guys would rather stick together driving than having folks separate.
By the time they left, several tear-filled phone calls telling folks someone was fine had come through. I had lots of emails and a few phone calls myself. It took far too long to get the news and so many people were worried…. but the relief was unimaginable once the list had been accounted for and folks were okay.
It took a while before someone mentioned they really like the picture of the Twin Towers in my office. I had forgotten exactly how much NY was part of my space, and while it hurt to look at the photo and realize the world was changed forever, I needed to do that. It was the least I could do considering what friends in NY had to face.
My friend who lived so nearby ended up unable to return home for a long time. And when he did, the view was so incredibly different, but the resilience he showed was similar to that shown by so many Americans in the weeks, months and years since. Probably the best example of resiliency is that as I finished up this blog post, my niece learned a friend was now engaged – the proposal came through a newspaper ad this morning!