Last Sunday as I drove home from a few days fun in St. Louis, I decided to go the road less traveled to see if I could find anyone picking cotton. I pulled off I-55 in Sikeston somewhat tempting the fates.
I chose Sikeston though because it's one of the northern most areas where cotton is grown and I thought by pulling off there in favor of state highways, I'd have the biggest opportunity to see some cotton harvest underway. I hadn't gone very far when I saw a familiar sight – a cotton gin that I'd visited with friends a few years ago. After a quick check-in with the office, not only did I have the green light to take photos in the gin yard, but I had directions to a nearby farm where they were harvesting.
Below are photos and a few points for anyone reading this who may not have seen cotton harvest or the new on-board baler/module maker that I saw.  (You may have already seen a photo I twitpic'ed from my BlackBerry last weekend as my friend Tara posted it.) I'll put a few photos here and several more are in the slide show at the end.
Beautiful fields of Cotton Ready for Harvest
Big fields with lots of pretty white bolls! Lots of them too!
Cotton Picking
Cotton pickers pull the plant into the spindles which pull the lint & seed into the machine while the majority of the plant remains in the field. This farm (owned by brothers Wayne & Wade Parker so I was told) uses the new John Deere picker that picks six rows at a time & compacts the cotton into round bales for transfer to the gin.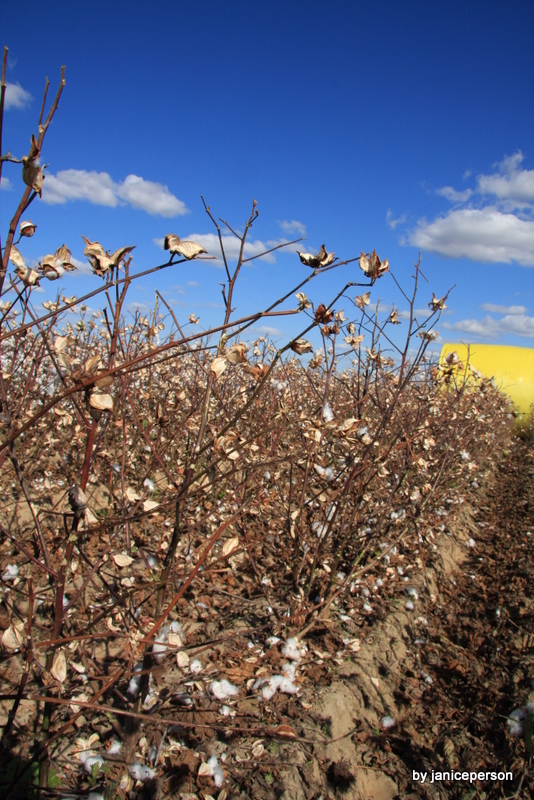 Moving Cotton Module Bales for Ginning Access
A tractor driver was trying to keep up with the two pickers dropping bale/modules. He would pick the module up and move it to the turnrow so the gin could pick up several at a time in a module truck.