One of the photos I took while I was in California was in a TV studio. I have to admit it stood out quite a bit in the set of photos I asked people to prioritize blog content. And that led Lakeshia Brown (check out her blog Uncommon Chick) to ask, what was up and who was speaking. Here is the photo Keshia asked about: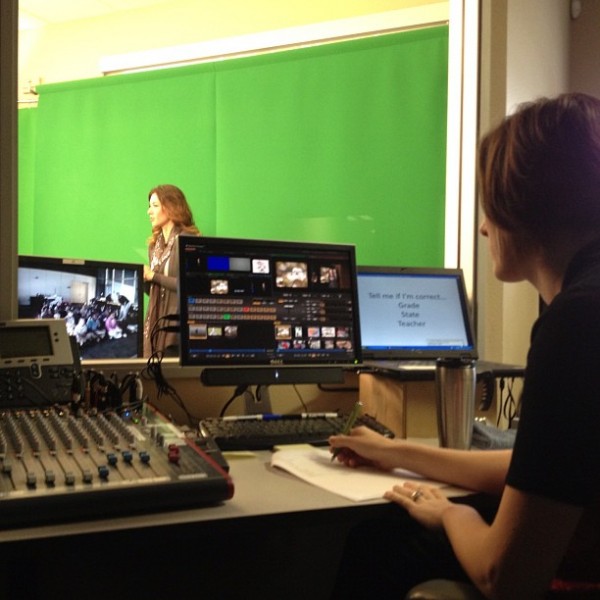 I am not sure how familiar everyone is with the way a green screen works. I have to admit being impressed every time I see one! And this time was even more impressive because I was sitting in Hanford, California (alongside my bud Dino Giacomazzi) and the person at the green screen – Michelle Mello – was teaching a class in South Carolina about cotton! She talked to the kids about the cotton products they were wearing, about where cotton comes from and more! And Trista Waymire was behind the control panel cuing up images and controlling audio, etc.
In the photo below you see Michelle in front of the green screen. You can also see the students in a monitor to the left. That way, she can call on kids, see what they are doing, etc. It was really cool and far more interactive than I could have imagined! The monitor on the right showed a lot of the behind the scenes in the control room.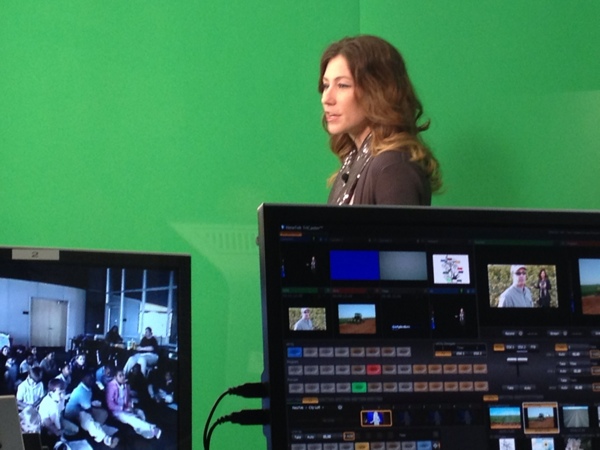 Just below, you can see a closer photo of that monitor….  And you can actually see two Michelles! The one on the right shows her telling the students about cotton plants. That was eactly what was going out to the classroom in South Carolina! She did a great job of teaching them about cotton plant physiology (or the parts of the plant like I did in this video). The other photo shows what is cued up to go on the screen next. and over to the far right you see the teleprompter that helps Michelle & Trista who works the control panel stay synchronized on what should be brought up next.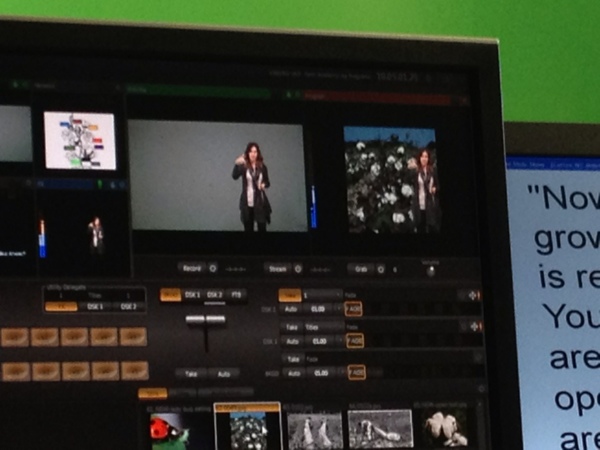 The program was started by a country farm bureau and is reaching out nationally! And I think we may all want to look at what we can do to help further develop the program. It would be great to develop more ag programs and recruit more teachers and with Michelle & Trista's experience, I think building the program would rock!
I took some video — I hope you understand the audio and all aren't the greatest, but I think this helps you get the feel of how the teaching from a distance worked. And you can get some cotton basics down too! You can also check out the posts on my Cotton 101 series to learn more about my favorite fiber!
There is also a program about dairy farming. You can sign up for classes by visiting the Kings County videoconferencing site.
I know ranchers Troy & Stacey Hadrick have regular Skype conversations with a class that adopted them.
Have you ever done distance learning programs via video conferencing?
Related articles