I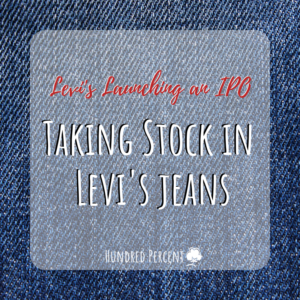 don't think I've written a single blog post here about the stock market, but the fact that Levi Strauss is once again considering going public, well that really deserves a mention. Would an initial public offering (IPO) of Levi Strauss stock interest you?
When I saw the news this past week, I have to say I was a bit confused. Levi's has been an incredibly well known denim brand for generations. It has been privately held & public in the past. Tech startups tend to be the IPO listings I hear about so I had to shake the cobwebs out of my mind and focus on it.
Levi's: The High School Years
I love the various brands that bring us cotton clothes even though for a long time, all my clothes were handmade. And those first pairs of store bought jeans… well, my junior high and high school years were Levi heavy. Sure there were years when some would get Chic or Jordache jeans, but my family didn't really do those. We kept clothes pretty basic.
Levi jeans were a constant in my life and I've been thinking more about them recently. I still love 100 percent cotton jeans more than blends even though I have bought several pairs with a bit of stretch. Those 100 percent cotton jeans need to be broken in a bit. But as you wear them, they form to the body that wears them routinely.
But I wonder whether how many people are thinking of Levi stock — which is planning to launch on the NYSE as LEVI according to CNBC. I read that piece and one by Motley Fool on 5 things to know about the IPO. And have to tell you the Motley Fool offers a lot more insight.
Global Footprint
The one thing the piece doesn't mentions that I have anecdotes on, is the value of the Levi's brand outside the U.S. When I have gone on various big trips, usually overseas or I have hosted friends here, Levi's is a seminal brand (I mentioned this as I wrote about Justin Timberlake's new line of clothes.)
I can't help but wonder whether the growing middle class in some parts of the world will be wanting more jeans and all. If so, will Levi's be positioned better than other brands? Name recognition may be there but product development will be critical too.
Would you buy Levi's stock?