It crept up on me. There were tweets and Facebook threads about where to get the matching pajamas. We've all seen them. And then the barrage started. Sure some shared the matching pajama photos early but Christmas Eve and Christmas Day, the photos were EVERYWHERE. And it seemed that the vast majority were made of flannel — a long-time favorite of mine! Guess this was the Christmas of matching flannel pajamas!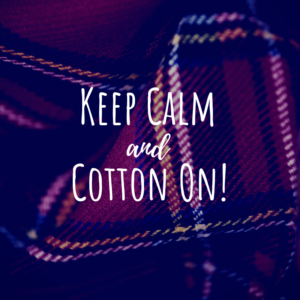 Getting a good family photo always takes a bit of work and it is so much easier if you have a limited palate of colors or patterns to work with. Christmas pajamas have been a thing for kids for decades (at least in our family). And getting the perfect photos to remember your big holiday frequently takes some planning and good timing. Well, flannel… well, how could you not love flannel? It was such a hit that my niece donned a flannel shirt over her wedding dress at her reception last fall and Justin Timberlake included flannel in his Levi's collection.
But I'd say this year was the point at which the combination of those things and flannel all came together for a trend that really overtook social media timelines — especially on Facebook and Instagram! There were matching flannel pajamas everywhere it seemed!
There were couples with their dogs (most pets were not in required PJs but some did have on flannel which I admit was something to see!) and families with kids of all ages all wearing plaid, or printed pajamas that matched. Some were tops and bottoms while plenty of the others had on flannel pants with a t-shirt.
Did you don matching flannel pajamas?
Did your family do a photo for Christmas? Any chance you wore matching flannel pajamas? Please drop a link to your Instagram photo or tweet, etc. I'd love to see them in case I missed it!
Our family didn't coordinate our clothes, but you can see lots of cotton and one of us had on cotton flannel!

Ideas for Christmas Family Photos
Family photos are something we love (at least some of us love them, others begrudgingly agree to participate occassionally!
Our family typically keeps it simple. We all wear whatever we want most of the time. Sometimes when we have a really big group, we've asked everyone to wear solids if possible. That was the case one year when we took a big group photo at Thanksgiving, though you'll notice we weren't too strict, especially with kids.
We could certainly ask everyone to wear a black shirt and jeans, or buy a stack fo shirts in the various sizes we need. That seems to work really well for some families. But it's also fine to just go with what we've got — sometimes the spontaniety of the moment really gets great, honest smiles!
Hope you are enjoying the holidays!
[click_to_tweet tweet="My family took a great photo in our matching flannel pajamas this Christmas! Did you? " quote="We were definitely on trend this year! "]
[click_to_tweet tweet="Love our family photos but we aren't into the matching flannel pajamas so much! What about you? " quote="Our family isn't a matching flannel pjs kind of family…"]