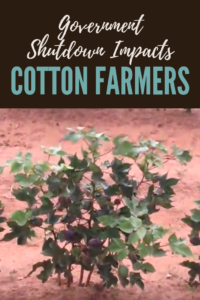 As you watch the news, you have probably been hearing about the various impacts of the government shutdown. National parks that are overrun with trash and TSAs callng in sick due to the shutdown. I hadn't heard much about the impact on cotton farmers or the industry til this week. Like other areas of US business and culture, the impacts have begun to be felt for those who are focused on cotton.
Many USDA activities will remain active during the lapse in federal funding because they're related to law enforcement, the protection of life and property, or are financed through available funding.

Find out more about which programs are continuing: https://t.co/Z6bRX0Xryz

— Dept. of Agriculture (@USDA) December 30, 2018
There are a variety of services and programs in agriculture. Farmers are finding it important to understand which are considered critical and continue during the shutdown while others are stopped. This press release from the USDA lists a lot of those closings or continuation of services.
Here are a few ways the U.S. government shutdown is impacting cotton farmers.
Information Sharing
This week as experts from across the Cotton Belt gathered in New Orleans for the 2019 Beltwide Cotton Conferences. This conference is the kick off of the coming season and a review of the various learnings of the past year. If you have read the blog for years, you may remember previous articles about how much information is exchanged at the Beltwide.
Much of that great research at the Beltwide is conducted by members of the public sector. They have spent months looking into complex challenges farmers face, or new ways to use cotton fiber, or engineering new systems to help in ginning or textiles. Some of those researchers analyzed data from across several seasons only to end up having the shutdown leave them at home rather than traveling for this conference. My guess is there will be more conferences like this that will miss the voices of government researchers, economists, scientists and more.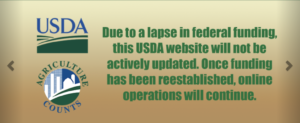 There are also a number of reports that are used to understand the business — for instance, this weekend there would normally be reports on cotton ginning, crop production, rice stocks and more. This has potential impacts on trade, marketing and more.
Planning for 2019, Securing Loans
business and financial cycles for farms are frequently very different from other small businesses. Farmers outlay money throughout the season until a crop is harvested and sold. That can be especially tough on people who are just starting into farming or who are trying to grow their farm. It is especially hard for new farms to get started or incorporate new methods, etc. For some of these farms, there are loan programs in the Farm Service Agency. A friend of mine from Lubbock — Steve Verrett of the Plains Cotton Growers — talks about how loans are impacted by the shutdown in this video by a TV station there.
What am I missing?
I'm sure there are lots of other areas of impact with the shutdown — for instance I'm hopefull enough TSAs show up I can get to my next flight punctually.