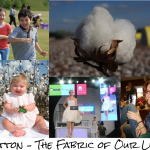 I love that my friend Stacy Hadrick (@StacyHadrick on Twitter, she blogs at Our Little Place on the Prairie) was willing to join the "Fabric of Our Lives" series of guest posts!  Stacy is a fifth generation American farmer, mom of 3 amazing kids, and a woman who is happiest when her plate is full. She's relatively new to blogging where she's sharing her life on the prairie in rural South Dakota with family and friends. She points out that "When you live an hour from a Wal-Mart it takes a lot of creativity and planning to keep ahead of my group." LOL! I can only imagine how much time & effort it takes to stay ahead of a household that includes Troy and three kids!
When I have small moments of time to myself (which is so rare!), one of my favorite things to do is to spend time in a fabric store, touching and looking at all the beautiful colors, bolt after bolt of cotton fabric.  It's in my blood, since I was a little girl I have logged many an hour in fabric stores with my mom, grandma and Aunt Penny. I love looking at pattern books, picking out fabric and feeling the excitement of getting home to start my project.  I remember vividly my mom talking to me about cotton fabric she said: 'although it wrinkles easy, it's also easy to sew with, easy to care for and breathes really well'. My first 4-H sewing project was a pair of cotton shorts. Funny, I can remember the shorts but have no idea what ribbon I received.

I'm proud to say that my kids are continuing my love for sewing and cotton fabric.  What is even better in our small community we have an amazing quilt shop.  My youngest daughter, Miss R begs me once a week to take her there. In fact about 6 months ago she got an idea that every morning I could take her to the quilt shop.  She planned on hanging out in the morning before preschool and have Lori (the store owner) then take her to school for her afternoon session.  Miss R was sure I wouldn't say no. It made me laugh, she likes being at the fabric store so much she came up with this incredible idea. Her plan didn't work out, but we continue to make regular stops and get our fabric fix.

Each of my children have sewed their first cotton item. My oldest son, T has  made many pairs of shorts- camouflage is his favorite color. Miss O has sewed a blanket for her baby cousin.  Miss R has made 3 pillow cases now, for her young age of 4 she loves to sew and is very capable of controlling the sewing machine. With all of my children I have shared the wisdom of my mom about sewing with cotton.

I can't wait to see all the things we will create through our future sewing projects.  I'm sure we will make amazing memories with yards and yards of colorful cotton fabric.
This post grabs me…. one because my mom and grandmom have always been able to make anything. Really. And somehow me and fabrics connected early but the ability to use a sewing machine without breaking a needle eluded me. My thriving at the coloring outside the lines didn't mesh too well with working from precise patterns either so I've had to freelance some of the things I do and convince someone else to help. Now I'm thinking my indecision over fabric to cover my dining room chairs has an answer – not just one!
I'd love to have more people tell about some of their connections to cotton. If you are interested, here's how you can guest post here. And don't forget to check out Stacy's blog  Our Little Place on the Prairie by starting out with her recipe for blogging. Finally, if you want to know about cotton beyond the fabric used in sewing, check out my Cotton 101 series of posts and you'll get to see what it looks like on the farm and more!
Related articles