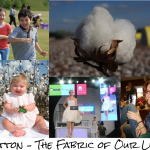 When I started the fabric of our lives series of guest posts, I thought about some of the people who could really help celebrate my favorite natural fiber. oddly, one of the names that came to mind is normally connected to sheep — my friend Sally Colby Scholle who lives in Pennsylvania & has sheep. She tweets as @sheepwriter blogs about it at https://sheepwriter.wordpress.com/. I couldn't tell if it was really nervy to ask her to write about natural fiber or not so I told her it was fine if wool got equal time, cause she and I both know the various natural fibers all play a role for us. I love the post she came up with too!

If it feels good, wear it!

I was one of those wiggle-worm kids who just couldn't sit still in school. Every teacher is blessed with a few of us fidgety kids, and I hereby apologize to all of the teachers who had to tolerate my squirminess.

Now I realize that part of the reason I was so restless was because I just couldn't stand the way my little plaid dresses felt. They were itchy. I didn't know this at the time, but I'm sure that the reason those dresses didn't feel quite right is because I was in elementary school when the great new P fabric was introduced.

My mom hit the homemaker jackpot – she no longer had to iron my cute little dresses. I, however, drew the short straw and had to wear itchy clothes.

Somehow I adjusted and made it to junior high, where my home economics teacher assigned a fabric identification project. I was lucky – my mom sewed, and we had a multitude of fabric scraps. I loved learning the names of the pretty cotton fabrics as I carefully stapled them to a piece of poster board … seersucker, chintz, chambray, gingham, denim.

Ahh…denim. With two jobs – farmer and ag writer – I can almost always wear whatever I want. I have old, broken-in jeans that are perfect for whatever I have to do in the barn or in the field. Some have patches, some should have patches, but they're all comfortable. I love the durability of denim jeans and how they become part of me. I also love denim's other life as deep-dyed indigo blue for dressy jeans.

In close second for favorite clothing are my cotton t-shirts. The long-sleeved versions are perfect for layering in winter, for in-between weather and for sun protection in summer. Cotton sweatshirts are great for unexpected changes in weather, so I usually keep one in the front of the four-wheeler. When I shop, I always look for the cotton label  – it means clothing that won't itch, pill or look thin and worn before its time. Although my first choice for everyday wear is a cotton t-shirt, my dressy cotton shirts are the perfect choice for pairing with dark jeans when it's time to look like something other than a farmer.

Since we raise sheep, all this cotton talk might make me sound like a traitor. But wool is another natural, renewable fiber that, like cotton, has a multitude of uses and blends well with cotton. I often use the sleeves from worn-out cotton sweatshirts to make little coats for chilled lambs. If that isn't the perfect match, nothing is!

In cotton, I can walk around the pasture checking new lambs, trim hooves, milk goats, ride a horse, work in my garden, meet with farmers at a field day, go shopping, attend an ag meeting or have dinner with friends. What else is there?

Thanks, cotton farmers, for growing my jeans and shirts!