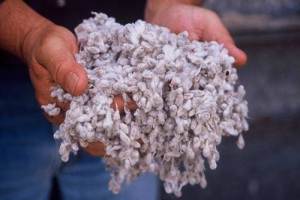 My friend and one of great patience, John Blue asked me the question "can people eat cottonseed?" some time ago. I've meant to write the blog post a number of times. But I kept dragging my feet. I think now maybe it was because there since there isn't a simple yes or no answer. Its more of a yes, no and maybe. The closest thing I can give you to a simple answer is for now, no, don't try eating cottonseed.
What Complicates the Ability to Eat Cotton or Cottonseed?
There is a natural chemical produced by cotton plants called gossypol. I love when I have a good friend who's awesome at science who has already explained a scientific topic I need to refer to, that's the case with Jesse Bussard having posted about gossypol. Jesse writes about gossypol and livestock saying:
Gossypol is a toxic compound found in the cotton plant.  This compound is concentrated in the cottonseed but can also be found in other parts of the plant such as hulls, leaves and stems.  Gossypol exists in two forms: free and bound.  The free form is toxic, while the bound form binds to proteins is not toxic.

Amounts of free gossypol in cottonseed can vary.  Many factors affect gossypol concentration in seed including species of cotton plant, climatic conditions, soil conditions, fertilizer, etc.  With all these factors it is impossible to come up with one easy way to determine gossypol levels.  The only way is to test the cottonseed….

Gossypol affects mainly the heart and liver.  The reproductive tract, abomasum, and kidneys are also affected.  Monogastric animals, such as pigs and horses, are hightly susceptible to gossypol toxicity.  Ruminants, cattle and sheep, can tolerate higher levels of free gossypol because free gossypol bings to proteins in the rumen.  Even so, gossypol exposure can be toxic to cattle over a cumulative period.  Levels of 800 ppm are considered toxic.  The longer the cattle are on the ration the more likely toxicity will develop.

Common symptoms include:  weakness, depression, loss of appetite, difficult breathing, blood in the urine, inflammation of the intestines, and reproductive problems.  Gossypol toxicity must always be considered anytime their is a death loss in young animals that have been on cottonseed for several weeks (less time if gossypol levels are extreme).

No treatment exists to cure gossypol toxicity.  Removing cottonseed from the ration may have some reversal effect but is not guaranteed.  Some animals have still died even 2 weeks after gossypol was removed from their diet.

via Forage Facts: Gossypol Toxicity in Livestock | Pearl Snaps' Ponderings.
Is there the potential for change?
If you can read that and think you want to eat cotton seed, you are much stronger mentally than I am. Cattle eating a diversified diet that includes cottonseed is okay, but that's because they are ruminants — they have multiple stomachs that assist in processing gossypol. BUT as I started this, I said maybe because a researcher at Texas A&M has been working on reducing the levels of gossypol in cotton in order to make the high protein source an option for both people and a wider array of animals. The researcher, Keerti Rathore was honored with recognition in January 2012 for his breakthrough work:
According to Dr. Don Jones, director Agricultural Research for Cotton Inc., Rathore's ultimate goal is to create cotton plants that produce seeds that contain gossypol at levels below what is considered safe by the Food and Drug Administration while maintaining normal levels of gossypol and related chemicals in the foliage, floral parts, boll rind, and the roots. Gossypol helps cotton plants defend against insects and pathogens.

Dr. Wayne Smith, Texas A&M soil and crop sciences associate department head, applauded Rathore's honor.

"Keerti has lines that show 95 percent reduction in seed gossypol that makes these seed – an excellent source of oil and protein – edible by humans," Smith said. "This effort could lead to a new, high-quality food source for people around the world."

Rathore earned his bachelor's degree in animal and plant sciences from Rajasthan University, his master's degree in plant biochemistry from Gujarat University, both in India. He earned his doctorate in plant physiology from Imperial College, University of London. Before joining AgriLife Research and Texas A&M in 2003, he worked as a postdoctoral research associate and a research scientist at Purdue University for 10 years

via Keerti Rathore Receives 2011 Cotton Genetics Research Award.
Yes, No and Maybe
So I guess you see why I answer the question of whether people can eat cottonseed with a yes, no or maybe. For now, it's best not to because gossypol can be toxic to people. Cows can eat it though and veternarians like my friend Kathy Swift look at the feed combinations to make sure cows are getting too much of it (sort of like too much sugar is bad for us & leaves us hyper or crashing). But researchers are looking for a way that cottonseed could be eaten as a protein source. If that were to happen, it could bring a protein source to parts of the world where there are currently few options. That's good for the cotton business but more importantly, it would be fantastic for people in parts of Africa and India.
What do you think, can you picture yourself eating cottonseeds instead of sunflower seeds at a ballgame?