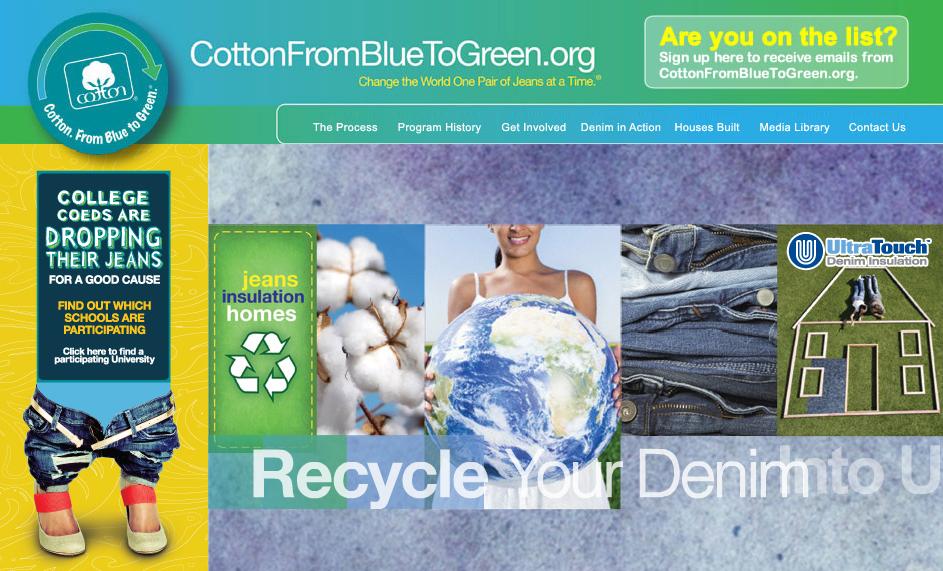 In the past couple of years, I've heard more about denim being used as insulation for homes. The memories that are clearest for me are around old jeans being converted to an eco-friendly housing component as this part of the world focused on rebuilding New Orleans in the wake of Hurricane Katrina (the Dirty Laundry Tour of college campuses in 2006 working with Habitat for Humanity efforts).
I know some denim drives have been held to help increase awareness in this way of recycling old jeans and denim skirts in a doubly environmentally-friendly way! Why double environmentally?
The cotton garments don't go into a landfill
They are used to make homes more energy efficient
I love the "Cotton. From Blue to Green." campaign! So if this has been happening since 2006, why am I so excited? Well, because this week alone I've seen two household name companies — both Levi Strauss and The Gap — show their support for taking "Cotton. From Blue to Green." I love this!
The Gap Offers to 'Recycle Your Blues'
First, if you are going shopping this weekend or in the near future, consider going to The Gap. If you don't want to go, at least check out this great video that creatively shows how they are involved in "Cotton. From Blue to Green."
[youtube=https://www.youtube.com/watch?v=Zoxkvmayddk]
To get the details, you can see coverage of the announcement from the Sacramento Bee.
Levi Strauss Supporting Community Organizations
The announcement from Levi's may not have the same creativity as The Gap's video
Levi Strauss & Co. Creates a $100,0000 Denim Insulation Fund to Help Community Organizations "Green" Their Buildings
SAN FRANCISCO (October 4, 2010) – To help community organizations become more sustainable, Levi Strauss & Co. today announced the launch of a $100,000 denim insulation fund, an initiative designed to reuse unwanted denim while keeping it out of landfills. The company will provide grants to organizations currently undergoing construction projects to offset the cost difference of using recycled denim insulation instead of conventional insulation.

"Denim is a staple in nearly everyone's wardrobe, but it shouldn't be a staple in our landfills," said Jill Nash, vice president of corporate affairs, Levi Strauss & Co. "By encouraging our consumers to donate unwanted jeans and then promoting recycled denim as insulation in buildings, we can green our communities from the inside out and extend the lifecycle of every pair of jeans."

The company will be accepting proposals from non-profit organizations from October 1 – November 21, 2010. This program is for U.S. based nonprofits organizations. Additional details about the program and how to submit a proposal can be found at https://www.levistrauss.com/sustainability/product/re-use.

via Levi Strauss & Co. Creates a $100,0000 Denim Insulation Fund to Help Community Organizations "Green" Their Buildings | Levi Strauss & Co..
I love that Levis will be directing money to green projects for charitable donations. I think that makes the double win grow exponentially!
Learning More about Cotton
Cotton is a natural fiber that comes from the Earth, it seems a perfect end to the product to go into another earth-friendly use.
If you want to know more about cotton farming, you may find this blog post about harvest of interest. You can also follow some folks in the cotton world on Twitter — I'd start with @Tweet4Cotton, @Supima and @CottonFarming.  You can also like the Cotton page and Gap on Facebook. And of course, I love tweeting about cotton enough that it's in my name, @JPlovesCOTTON. 🙂