Earlier this week,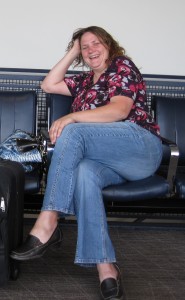 I made a plea for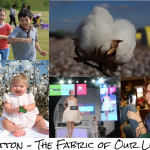 guest posts…. I want to share the various stories about how cotton is the fabric of our lives. Those special moments and the day-to-day that include my favorite fiber. Good friend Val Wagner is the first to take me up on the offer! Val didn't send her own bio, so she's at my mercy. 🙂  Val is one of a kind and at the same time, so familiar. She doesn't fit the stereotypes others set up, but it's not because she tries not to, she is simply being her awesome self! She lives in Monango, ND (which I will be visiting this summer – do or die!)
I first met her at the 2010 AgChat Foundation Conference (the photo at left is from our laughter at the airport as we headed home) but we had talked quite a bit on Twitter so I felt a little like I knew her. By the time we caught up at another ag meeting, we were dear friends. She had started her blog Wag'n Tales, that tells the story of her family's farm where they raise beef cattle, corn, soybeans, wheat, alfalfa hay and four boys. Val is a farm mom in the traditional sense in that you'll see her post recipes and talk about the crazy schedule of keeping the household of four sons running. But she also writes about going ice fishing or hunting, spending time driving tractors or helping deliver calves. Thanks Val & I hope you enjoy the post!

Cotton. I've always known what it was, but never gave it much thought. I mean, I like it in my clothes, I love it in my bedding, it's everywhere I look…but I didn't think about it. Much like many of us, I would guess. 

But that all changed not so long ago. I met this lady who has a passion for all things cotton…and when you come face-to-face with that kind of excitement and energy, you can't help but feel a little excited and energized yourself.

I started reading labels, and watching what I bought, and realizing (without ever knowing it) that I was heavily in the cotton court…or maybe I should say field?

My hubby's new Carhartt spring work shirt is 100% cotton. 

My youngest son's favorite blanket is 100% cotton.

My wrestling son's wrestling shirt is 100% cotton.

Yes, cotton is woven through every nuance of our lives…and I realize now, just how important that is.

Cotton is truly the fabric of our life.
You can learn about how cotton is grown through the Cotton 101 series of posts or more about the natural fiber in a variety of cotton posts.