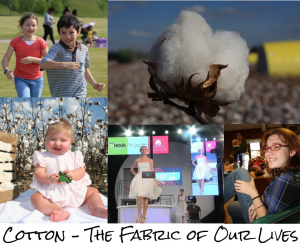 I'm not sure what I thought a stereotypical dairy farmer was like when I got on social media, but I didn't think I'd find a bunch of them tweeting. And I certainly didn't expect to meet farmers who have secret agent cows blogging from their farms. Then I met Ryan Bright. Ryan is a 5th generation farmer with a slightly overactive imagination. He works alongside his father and uncle on a 100 cow dairy farm. He has one normal blog, Silo Skies, that talks about life on his dairy. His other blog, The Udder Side, is a sometimes humorous look at farm life from the point of view of secret agent spy cows. You can follow him on Twitter @Farmerbright.

I love cotton

One hundred percent

All the other fabrics

Never make a dent

(in my wallet)

As just a regular guy and a dairy farmer, I am a big fan of cotton. I buy it for both reasons. No, I don't purchase cotton clothes for my cows, although they might have liked to wear pretty cotton sundresses over Easter. Cotton for me is both feed and clothing.

Our cows are fed a balanced ration of hay, silage, and grain. The grain contains cotton and I sometimes even see a bit of the white fibers. It makes a great source of energy and nutrition in their diet. I think it must be the secret ingredient to great tasting milk, at least that's what Janice Person told me and I'm sure she's not biased.
With three kids and a wife I am definitely a cotton supporter in the clothing department as well, but today I'm going to talk about me. My favorite item of cotton is a faded blue flannel shirt.
Old blue the shirt has been with me for a very long time, 1992 or so. This makes my shirt about 497 in clothing years. There were also brothers to this shirt, red and brown, but blue is the favorite and the other two have both passed on. He, he's definitely a he, is almost always untucked and worn over a cotton t-shirt. I have owned him longer than I've owned a car or even started dating my wife. As far as that goes, he's probably seen most of my old girlfriends, too, not that we want to talk about that.

While some folks turn to mac and cheese or chocolate for comfort, I turn to blue. He's just comfortable and home-y. These days he's washed on gentle (when I wash him) and worn only on special occasions like on a cool day when I have the opportunity to hang out at the house and watch tv (moments that grow fewer!).

Generally speaking there is a timeline for clothing in my house. New shirts and pants start out as going to church or town clothes. They graduate to hangin' at the house clothes to going to the barn clothes to grease rags. Obviously stains and rips move the timeline forward and there is still an opportunity for some to take a detour to the goodwill boxes. My wife has threatened to move old blue past his unnatural state of being into barn clothes or worse, but so far I've kept him safe.

Is cotton the fabric of our lives? If it is what makes you comfortable and feel good then it is definitely the fabric of my life and especially so when I'm wearing old blue.
What's your "old blue" comfy cotton story?
Related Reading