While I was in Lubbock for work recently, I decided to add on a personal night so I could play in a couple of cotton fields!  There is something about Texas dryland cotton that has always captured my imagination — heck my first video post shows a really short glimpse at it. The crop is so similar and yet really different from the cotton that I get to see so often as I drive between my current home in St. Louis and my family's hometown of Memphis.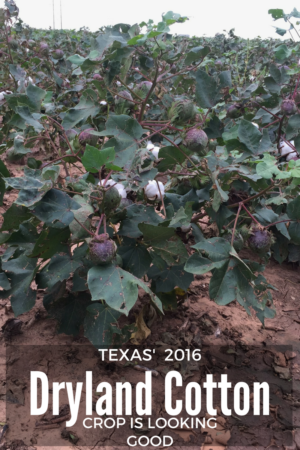 But maybe before I get too far into this story, I should be sure we all understand what I'm talking about.
What is dryland cotton?
A lot of the U.S. Cotton Belt depends on rain for crops, it is telling that crops in the Southeast and Mid-South cause those crops rain-fed, but the Texas High Plains and some other areas of the state where rain is less common have always been called dryland crops.
This Year's Texas Dryland Cotton Crop
This year, luckily, many Texas dryland farmers started the growing season with some moisture and many have had decent rains. That means the fields of dryland cotton look a good better than drier years. In fact, I did this video and realized it was still damp in the field which, if combined with some good hot weather for a couple of weeks, could really help create yield.
You'll see how many cotton bolls the compact plants can put on… it is impressive how loaded the plants are. And I saw a lot of 5-lock bolls which is generally seen as an indicator of high yield potential.