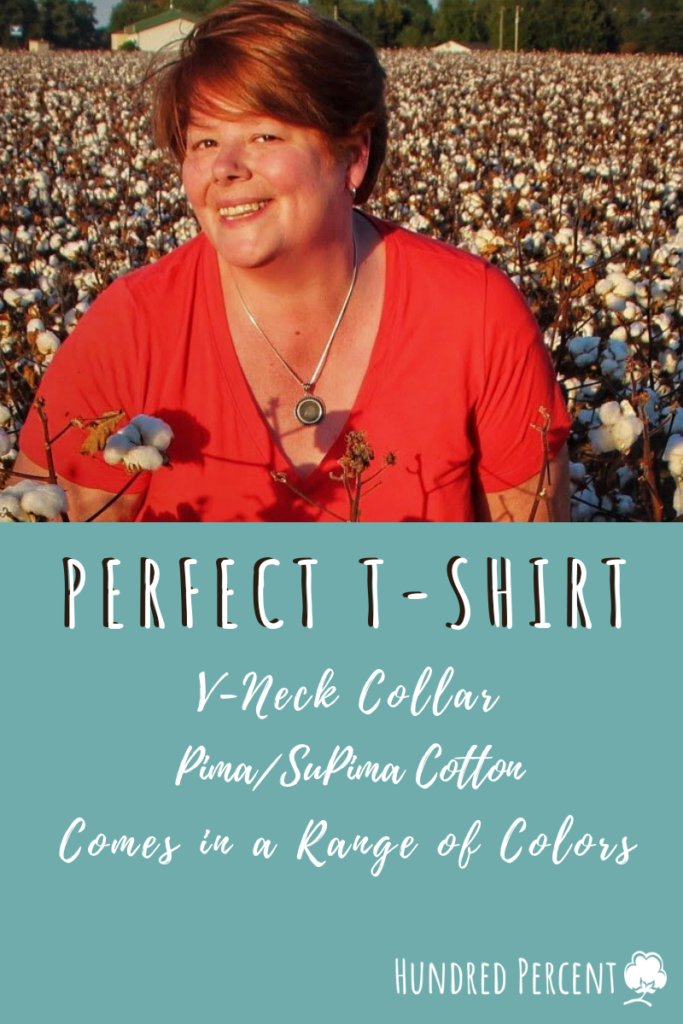 Telling people I am frequently a jeans and t-shirt kind of person can sometimes make people think something really different than I mean. But I have to tell you, donning a great pair of black jeans and the perfect t-shirt really can make me the most comfortable person on Earth!
And while I have to admit that an awesome concert shirt or a t-shirt that shares my love of agriculture are fun on downtime, I frequently want something a bit nicer. I have looked a lot and so when I find the perfect t-shirt, I have bought it in every color and a few of them in black.
So I keep going back to search for the perfect t-shirt again. And I try to find new favorites in other places…. I look for two key factors:
V-neck Cut — I really like the look of them.
SuPima or Pima Cotton — The fineness of SuPima or Pima cotton make t-shirts thin but never see through. On the hottest day, you can stay cool and the fiber strength and length mean the shirts can hold up well year-after-year for many wears & washes.
When I find those two things, I buy one or two to make sure on size and comfort for a week or two and then buy all the colors!
My biggest purchase was years ago in February. I tried the shirts on and then decided to buy another wave. Ended up buying 3 in black and one in every other color they had (a bright red, a melon color, kind of periwinkle and gray) and having them sent to a hotel knowing they would be incredibly useful for comfort & style at SXSW.
I have worn these perfect t-shirts so often that I realize the majority of the photos I take anytime of year but winter, have me wearing them!
Every year around this time, I wonder whether this is the year I will find them again. Last week, I was hopefully looking at the Banana Republic site because they have had the absolute perfect t-shirts in the past. A quick search for SuPima turns up a lot of options but most of the women's shirts are crew neck. Bit of a bummer but I bought several anyway. There was one v-neck though, with that incredible SuPima smoothness…. not sure about the horizontal stripes, but I'm going to give it a go. Who knows, maybe you'll start seeing it in photos.
And I'm going to beg Banana Republic once again…. PLEASE BRING BACK THE women's v-neck t-shirts made with SuPima!