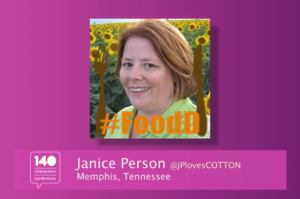 When you wear your passion on your sleeve (or in your Twitter handle like @JPlovesCOTTON) it is really easy for other people to share that passion. This was part of the presentation I gave during the 140 character small town conference (140conf) that I've talked so much about. But I really hadn't talked about what I was doing at the 140conf, which probably makes a few people scratch their heads but for others, I think you'll understand that it feels like I'm patting myself on the back to share something like that.  But I recently got such a clear reminder of how making that passion known helps get others to share in it, I decided I would go ahead. That's when it was really clear to me I wasn't sharing this story from purely a personal interest but in trying to find others who share that interest. So here's the audio on my passion that event on the 140 conference blip station. I hope some of you find it interesting or entertaining.
In this I talk about how less than 2% of Americans farm and when you look at cotton, it comes down to .006% of us are engaged in cotton farming (thanks to Shawn the magnificent at the National Cotton Council for doing that math!) I said that if I, as someone who had a daily awareness of cotton wasn't willing to shout COTTON ROCKS now and then, then who should I expect to do that?
Before I went to the 140 conference, I got in touch with a bunch of people who I thought may be able to make the trip to Hutchinson – people I follow on Twitter who I'd like to meet, friends from college in the area, etc. One of the folks I hoped would be able to make the trip was Alexis Ceule (@AlexisCeule and her blog Confessions of a Social Media Mamapreneur). She couldn't but took time to introduce me to a friend who was making the trip from Kansas City and she watched the livestream. We touch base now & then on various things but recently Alexis sent me a link to an eBay auction just like this one for a pamphlet on Cotton in series Coca-Cola produced called Our America! I'm sure the fact that Coke is as Southern as I am, has already come to mind for some of you – it sure did for me!
When I clicked on the link, I knew I HAD TO HAVE IT! What's fun is it seems the seller (Weird Stuff Antiques @WeirdStuff) stumbled on quite a few copies of the pamphlet that Coke produced several decades ago (kind of sad it doesn't have a date on it but it is sold in the 1940-1959 section 🙂 ).  I bought two on my first crack but I'm thinking I should have bought some as off-beat but inexpensive Christmas gifts (pretend you are surprised if I am able to get more LOL!)
Its an activity book that lets you read about different parts of the cotton industry and some of the innovations that had been delivered then. The book is really interesting and reminds me of a lot of posts I should get to writing on how things are done now!
Rather than try to write this book all out, I'll let the photos speak for themselves! At least until I think through whether I want to do a series of then & now. Here's the dedication page to give you a flavor of the text!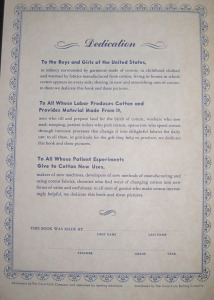 To the Boy and Girls of the United States,

in infancy, surrounded by fabrics manufactured from cotton; living in homes in which cotton appears on every side; sharing in new and astonishing uses of cotton; to them we dedicate this book and these pictures.

To All Whose Labor Produces Cotton and Provides Material Made From It,

men who till and prepare land for the birth of cotton; workers who sow seed; stooping, patient toilers who pick cotton; operatives who speed cotton through intricate processes that change it into delightful fabrics for daily use; to all these, in gratitude for the gift they help to produce, we dedicate this book and these pictures.

To All Whose Patient Experiements Give Cotton New Uses,

makers of new machines, developers of new methods of manufacturing and using cotton fabrics, chemists who find ways of changing cotton into new forms of value and usefulness; to all men of genius who make cotton increasingly helpful, we dedicate this book and these pictures.
Do you like the idea of doing a then & now series on cotton, using this as the history base?
(By the way, the title of this blog post is a take off of a great mystery book by Kinky Friendman called Elvis, Jesus & Coca-Cola.)