If you are a fan of Hayden Panettiere, you know the actress has made a name for herself by playing the tomboy daughter of a football coach, a high school cheerleader and hero who can produce fire and a rising star in Nashville who has more than a few personal problems. Well, she is drawing attention to my favorite fiber now as a new spokesperson for Cotton Incorporated.
Have you seen that Hayden Panetierre cotton commercial? The new commercials featuring Panettiere singing her own unique version of the memorable "The Fabric of Our Lives" theme song started airing in April. And if you haven't seen it, you really should check it out. And to make it really easy for you, I'm embedding the video here!
How is cotton featured in Hayden Paniettiere's closet?
One of the cool pieces of the advertisements over the past five years has been seeing the different styles the various spokespeople have had. Hayden Paniettiere doesn't disappoint as you saw in the commercial! She has a wide range of cotton clothing — from clothes that are campfire perfect, to trendy pieces for a night out on the town to something more formal. I mean check out a few of the outfits in these photos.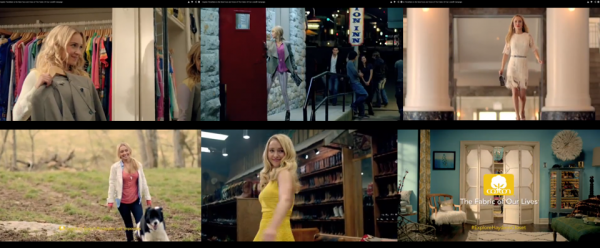 And a really cool feature on The Fabric of Our Lives site is the ability to check out the pieces in Hayden Panettiere's closet. You can click on a piece and see where the outfit is from and it even takes you to another video of Paniettiere talking about the piece, how she pairs it with other things in her closet, etc. There's also a Q&A with her generally talking about clothes, fashion and of course cotton:
How do you feel about cotton as a fabric?

What could be better than cotton? It's my go-to. I can dress it up and wear it as a form-fitting dress, or dress it down as a soft and comfy tee. I know I'll be fashionable and comfy either way. When I can look good AND feel good, I'm happy.
Why advertise cotton?
I've previously written a post on the reasons for the ad campaign on cotton. The ad campaigns for cotton are funded through a commodity program that seeks to increase the marketability of my favorite fiber. And Cotton Inc. comes up with the awesome creative. The ads are funded by cotton farmers and the people who import cotton. The ads are designed to increase awareness in cotton and cotton farmers have an interest in keeping cotton top of mind, especially since the makers of all the synthetic fibers like polyester have big ad budgets, advertising is part of it.
But there are other things to funded through the monies farmers pay into Cotton Inc — research and development of textile processes, cotton production practices, etc which help keep cotton competitive with synthetic fibers in other areas or even help discover new uses.
More Information on Cotton
I love putting information about cotton together for the blog so let me start this section with the various resources here on the blog.
The cotton category of posts

includes pieces of all sorts — news, information, photos, etc. If its about cotton and on this blog, it should have been thrown in this category. Any time you are on the blog and interested in finding this set of posts you can just go all the way to the top of the screen and select cotton and you'll get that done too. 

There are also some groupings of posts within that category that help you find something more specifically. 
To find our more about Cotton Inc. and the kind of things they put out about cotton clothes and textiles, you can check out: