I'm not sure when I first became familiar with Garrison Keillor's work, but it seems like I've always known him. In some ways, I think my watching The Waltons as a kid somehow merged with his Prairie Home Companion. I mean, the feeling of nostalgia and simplicity was probably the tie. And the image of the Waltons listening to radio & his big following without video. Anyway, a friend sent me the email he'd gotten thanks to his subscribing to Garrison Keillor's website & I dove right in.
It is kind of heartwarming & funny how he starts the post talking about how his wife is always pushing him to do better for the planet. Most of us are striving to leave the planet we call home better than we found it and yet, most of us also know someone who is far more committed to the idea than us. We have a range of things that come with that social license… sometimes we subscribe full, others we have a different view and still others we ignore. I've known more than a few people who dated, married or somehow became connected to someone who wanted them to give up meat based on the environmental footprint as they understand it. But I also know a lot of people who have very different reads on that. And when Keillor lets us all get a shared laugh at the reality most of us have an omnivorous diet, even if that means sneaking meat, I was ready to move on.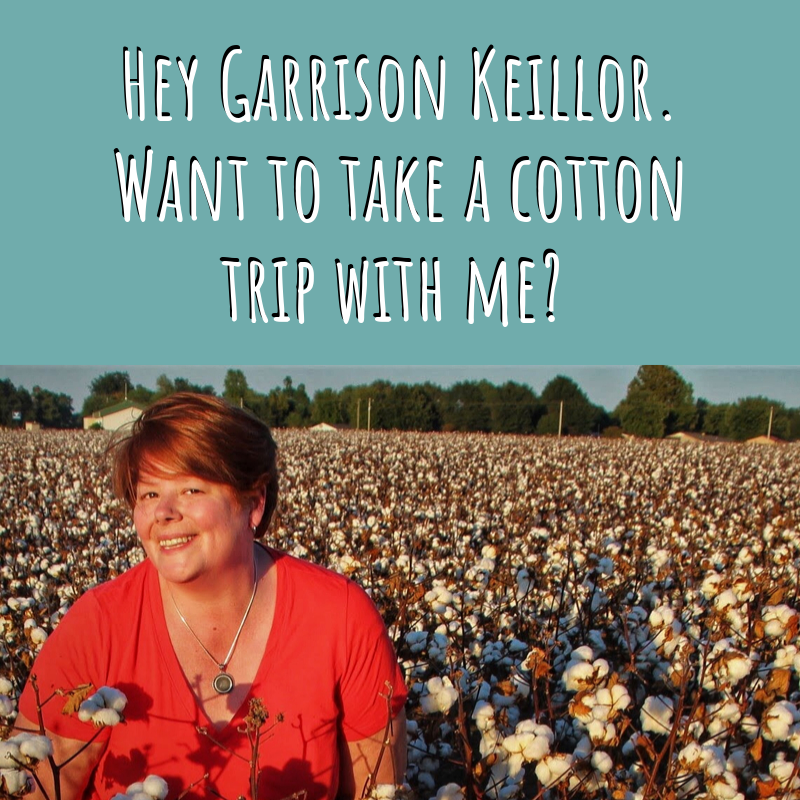 And then I realized why the friend thought of me. Keillor writes about her comments on cotton with a sense of exasperation cause he, like me has a deep love of cotton:
But the other day she told me that cotton is a bad fabric, that to grow the cotton to make three pairs of jeans uses more water than a person will drink in a lifetime. And dreadful chemicals are employed in the making of denim. "What am I supposed to wear? Silk?" I said. She told me that silk is more sustainable. So is linen.

But cotton?? I love cotton. Jeans are my uniform. I walk down the street in old faded jeans and a black T-shirt and I am 25 again, a young attitudinous writer.

Unexpectedly on a dark day, light shines through from GarrisonKeillor.com
I would love to personally invite the Keillor couple to go deeper than the ideas that cotton as a fabric is "bad" or that chemicals are "dreadful." I hope he used literary license. Lots of people have read about the water footprint of cotton and yet few have had the chance to dig into the topic with some depth. I'd like to help Garrison and his significant other (is her name Jenny?) get to know cotton on a deeper level.
I love that Jenny's advice is to stick with natural fibers — I am certainly a fan! I have some great linen clothes for summer and my hatred of cold weather means I truly love wool in winter. And while some folks will point out polyester uses less water, I think Jenny and I will agree that the footprint of synthetics with a dependence on petroleum takes us down a whole other path. And I am one of those folks who wears jeans several times before putting them in the laundry.
My passion for the natural fiber has led me to spend hundreds of hours with farmers asking them about how the crop is grown. It would also be a chance for me to learn too. I don't have all the answers on the topic of cotton by any means, but after decades of talking to people who grow the crop, others who design fabrics, and who look at dyes and finishes and more I have found it has been improving leaps and bounds over the past few decades. And, we'd have a great time doing a small tour of some points of interest in the conversation about cotton and we could learn a lot.
A Potential Travel Itinerary
We could start with a farm visit. If Jenny & Garrison are ready to go, I hope to spend tomorrow/Friday in the Missouri Bootheel showing a friend what cotton plants look like. We'll have a chance to ask a farmer about how he utilizes water on the farm. We plan to see Darren and he has some irrigation but also has some dryland cotton. What's amazing is how precise irrigation is and how farmers understand the soils they have, things that they can do to help the soil capture rainfall and retain it for use later. They pay close attention to flow rates of water and more. Those are improvements that have been happening throughout the decades I've been learning from farmers. PS — Darren sent a photo to make sure I keep focus on my visit.
But I should mention we may not be able to go because he may be rained out. And rain on cotton at harvest can cause some tough issues in terms of soil health, crop quality and yield. And while it isn't exactly Lake Wobegon, there's a YouTuber in Minnesota who grew & made his own tshirt!
We could learn about fiber use after the farm. How's Cary, North Carolina? or maybe Lubbock, Texas? When cotton moves from the farm, it goes through ginning & warehousing before you get into carding, spinning, etc. Eventually you get to the finishing and dying. It's awesome to see this up close and personal. understand how it is done because each company is in improvement mode too. I like seeing this in the labs at Cotton Inc. or Texas Tech first, but then seeing it done at scale with denim or towels… that's amazing.
One of the things I have been impressed by, is how many scientists are looking at ways to make all of these processes better environmentally. One of the innovations that really blew me away on a visit was the way the worn look can now be achieved with lasers (yes LASERS!) instead of chemicals.
And if they want to come to St. Louis with me, I can introduce them to a researcher at the Danforth Center I met a few years ago as I had the chance to see what plant breeding is doing to see if indigo can make a resurgence!
Lots to Talk About
In my experience, this diving deeper offers so much to all of us. And while I have studied up some on why people have the impression that cotton is so water intensive, I am always amazed at how much more there is to be learned. And quite frankly I learn more by talking with people who have different questions or presuppositions than I do!
I have the feeling that Jenny and I agree that the constant purchasing of clothes for right now rather than thinking about the perfect t-shirts that you will wear long-term (Have mercy I love a good black v-neck! Have had some well made ones for close to 10 years!) Also like dresses that can be worn across seasons and dressed up or down to easily help reduce our personal footprint. And those things keep the commercial bug at bay.