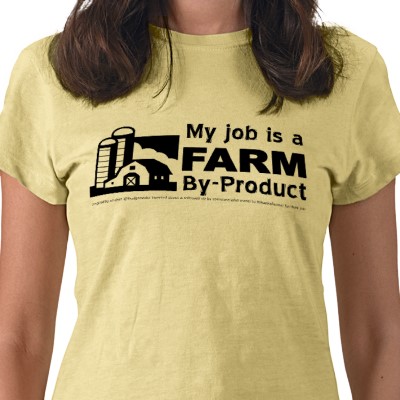 It's Friday night and I'm listening to the rain come down.  So nice to be home.  I put my feet up & decided to catch up on what's been going on in the digital week.  I saw a tweet from a farmer I talk to a good bit — "Waiter at Famous Daves has T-shirt that says 'my job is a pork by-product'" — I LOVED IT!  And I had to send it along with a note from me — "AWESOME! My job is a farm by-product."
Obviously the idea resonated with a few folks online as some of them decided to forward it along and then April Bowman said I should get a t-shirt! All I thought was why not and next thing I knew, I had designed a t-shirt on zazzle (thanks Andy for the inspiration of the shirt you did this summer).
I've ordered myself one and set it up so that if anyone else wants one, you can pick the style & size you'd like.  Just go to the website here to buy one yourself!  Here's what mine looks like (of course its cotton)!
The service I used is set up where if you make a design & share it, there is a royalty of 10 percent or more. I couldn't figure out how to turn it off but then after thinking about it a few minutes, I decided I could simply turn any royalties that come in over to the AgChat Foundation — seems a great connection!  Farmers empower me to have a job, and a shirt that expresses that will help support the organization empowering more farmers to tell their stories through social media.