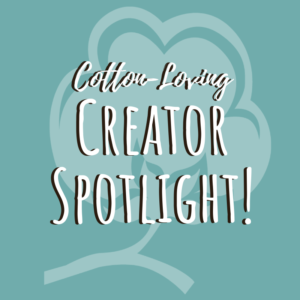 A good friend from work recently shared a photo of her holding a quilt saying it was her first one. The pride of workmanship was infectious. I immediately asked her to tell me more, ultimately, I knew her story needed to be featured as a creator spotlight on the blog!  Thanks to Ginger Price (check out pricegingerm on Instagram) for sharing her story with Hundred Percent Cotton! This post was written by Ginger.
It's not the destination, it's the journey.
It never occurred to me that finishing my first quilt would remind me of a favorite quote from Harley Davidson — "It's not the destination, it's the journey." The process of tackling a quilt started well before choosing the fabric, the pattern or in my case not choosing the pattern, cutting, sewing… all building to that final moment when 'ta-dah' the quilt top was complete.
Nor did it occur to me that once that final moment would arrive how reflecting on the process would be a deeper process of what making the quilt taught me about myself, my heritage and some future desires of things to accomplish creatively. Most of these things had nothing to do with the technicalities of making a quilt.
Creativity has always been a part of me. It's a gift, some days a curse, but mostly a gift.
I'm the fourth generation creative female on my mom's side of the family. The curse comes from the frustration of trying to find my 'thing'. There's been something in me that has been struggling to find a way to produce some sort of art.
Growing up our house was filled with art produced from each generation—except me—unless you count refrigerator art from grade school. Expressing myself artistically has been a challenge. In part, perfectionism crippled me, intimidation crippled me and being a stubborn goat of a child my unwillingness to sit and learn from my mom also crippled me.
My quilting journey started when my mom made her first quilt. Literally she woke up one day and had the idea to make a quilt top and embroider over it and that it was going to be a gift to me. These early morning ideas are the best—I get them too. She hadn't made a real quilt before, but she's good on a sewing machine and an amazing embroiderer.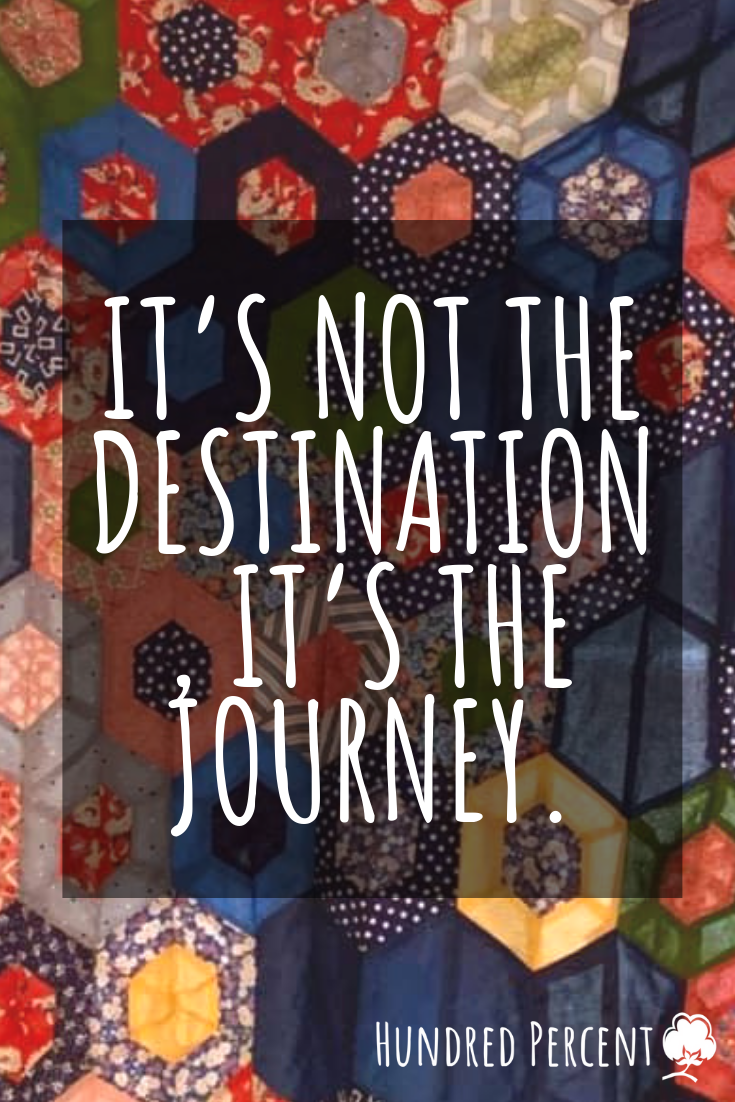 At the time she wasn't feeling well and asked me to go pick out fabric for her—cringing on the inside and shaking in my Chucks—I set off to the local quilting fabric store—only to cheer my mom up—telling my mom no isn't an option. My version of sewing is 'fake', in my life maybe five things have been attempted—none really great. So picking out quilting fabric was an overwhelming ask.
Being on a Journey Together
This first step taught me, we are on the journey together. Selecting the fabric in the end was fun, the owner of the store showed me a couple of options to get started and in no time fifty bolts were spread out in the back of the store. You never know how things in life will spark another step—being forced to go by myself for my mother made me realize how much fun selecting fabric can be—surprisingly she loved every piece selected, which made me feel confident.
My parents live in Oregon, for now Missouri is where I reside. My mother continued to quilt and when I'd go home, we would shop for fabric together for her projects. She would buy fabric and make something, my role was to find a few pieces that were attractive and add to my collection. My mother started to make a lot of quilts, she can finish a top or two in a month, in the last five years she has easily made more than 40 quilts and countless smaller quilted things.
One day while shopping she said, "Are you just going to collect fabric…or are you eventually going to make something?" Challenge accepted mom. That day we made an apron together and started the process of making my first quilt.
Planning?
It would be easier to tell you the better way to do things now that we've made a couple of quilts together. Mind you my mom is much better. Both projects that started did not have a real plan. Next time there will be a better plan, this lack of planning slowed me down. Decide what size quilt you want to make, decide what pattern you want to use.
Not having a plan made things more difficult—funny how that translates to life in general. We literally copied a pattern from etsy just by looking at a photograph. The journey taught me to slow down and listen, even though it's painful for my personality—listening and planning make things easier. Mom kept nudging me on committing to a quilt size, and this girl wouldn't budge.
A challenge faced in finishing the quilt was that my lack of sewing mojo made me want to work on the projects with my mother. Since we don't live close this required working on it in during my trips home to visit my family. Lugging my quilt across the country four or more times was difficult.
My mom has an amazing community of friends who meet up to quilt. A few trips home it worked to be able to join them. It was so fun to engage in the 'sisterhood'. They help each other, collaborate on ideas together and best of all just enjoy each other—all three text and encourage each other in quilting, art and life outside of their sew dates. They reminded me the journey, any journey is enriched by community. My suggestion is find a quilting group and join them locally. It was really hard to set out all my stuff and pack it up, then many months later set it all out again.
A Long Journey, Planning to Finish
Four years, multiple trips home this last year my goal was to finish my first quilt before the end of 2018. Christmas break was my deadline, my last shot before the year closed.
My original plan was for me and mom could hop on two machines and tear it up. My plan wasn't her plan. Deep down she knew it was my mountain to climb. While piecing the quilt together it became VERY apparent that some pieces were not sewn or cut uniformly for size. This caused some heartburn. Making a hexi quilt, the hexis have to line up or it doesn't work.
After piecing together three strips the thought crossed my mind to trash it. Literally in a rage my vision was walking to the dumpster and heaving it in. Having to take pieces apart, recut, resew and reposition was daunting. Next time attention to precision will be utilized when cutting pieces.
Thinking back to all the trips the quilt was drug home to Oregon, the countless time spent cutting and putting patterns together—tossing it in the garbage couldn't be the solution. The journey reminded me that even if things don't come together perfectly, it doesn't mean the finished product won't be beautiful.
Imperfect? Maybe. Still Beautiful.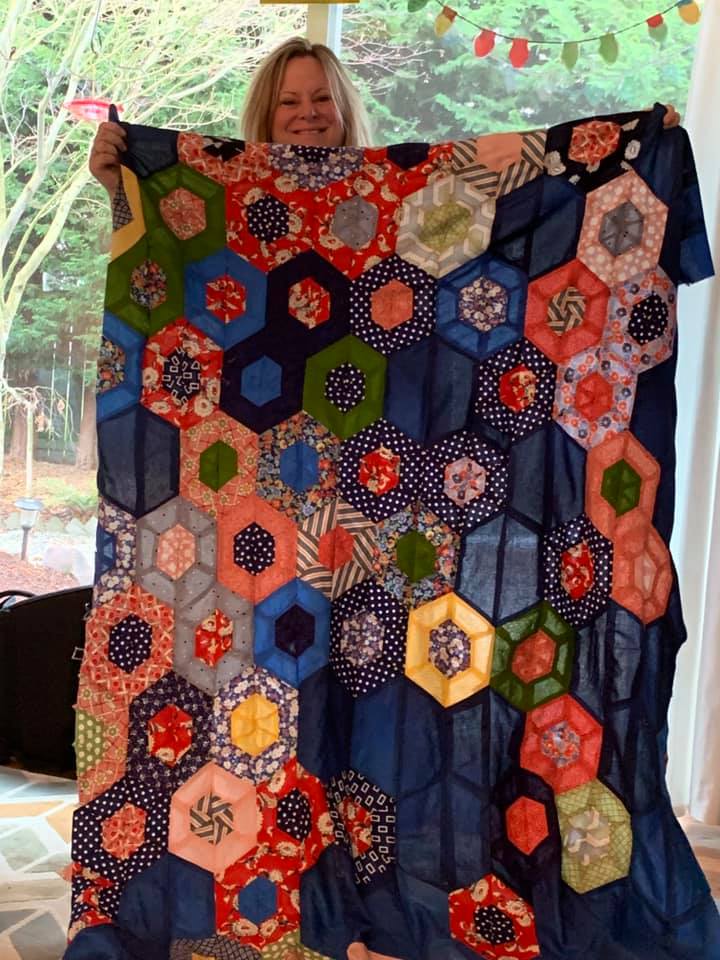 As the final stitches were being made my heart welled up with so much pride and joy. It isn't perfect, but was finished and just days before 2018 wrapped up.
There were many that helped me along the way, but doing the final piecing of the top gave me so much confidence that a future project solo is possible—don't get me wrong, sewing with my mom will still happen and maybe buying fabric will too.
Working on the project locally will be very relaxing—cutting, looking at pieces, picking the fabrics, thinking through how to put it together are all therapy for me. Finishing was a landmark achievement—putting it together solo is the sweetest part for me. She was in the background if help was needed, but making me do it on my own was the best victory.
Next step is to finish the back and send it off to our longarmer Teresa Silva who is part of my mom's sewing group. She is very talented and does all of our longarm work. You can see her on Instagram @quiltingismybliss along with my mom @cmpricefamily.
Plans for another quilt are being made…actually a couple of projects are in the works. My next goal is to not be a one hit wonder—there may be some other arty ideas in the mix, but right now my focus is on creating some beautiful pieces for my loved ones. Back to the Harley quote…the journey continues.
Know a Creator? A Farmer?
Know someone who creates with cotton or even someone who grows cotton and who's story should be shared here? Please let me know by commenting here or sending a private mesage via the contact form.