Since I grew up a city girl, I didn't how much about Wrangler jeans til I was going to college in Oklahoma. I still remember a girlfriend talking about how great guys looked wearing Wranglers and I was wondering to myself who she was talking about. Needless to say decades of working with family farmers and attending George Strait concerts, I understand that Wranglers are every bit as ubiquitous in that world as Levi's jeans had been in mine. And I love seeing Wrangler commit to US cotton which am excited to pass along news of!
Wrangler's Rooted Collection
Now Wrangler is driving that point home in a few new ways — they are marketing jeans and t-shirts that connect back to the family farms that grew them. The collection — Wrangler Rooted — connects to the farm, to US textile mills and more.
Grown, cut and sewn in the USA, the Wrangler Rooted Collection™ represents a triumph in sustainability. Featuring custom shanks, rivets, patches and pocket prints, the details of each premium jean are a nod to the tireless work ethic and responsible land stewardship of America's cotton farmers. Each of the five designs includes features that tie these jeans back to healthy soils in each state.
Talking about Sustainability & Soil Health
The timing of the announcement seems perfect to me. I think Wrangler sees that more Americans are interested in the environmental footprint of the clothes they wear. Watching to the videos they have and reading the website, I especiallly noticed a discussion around two of the factors that I have seen a lot of interest in — soil and water.
Listening to cotton farmer Vance Smith from Texas talk about the soils and moisture on his farm in Big Spring, I get as excited as I was the first time I visited Mr Ray on his Louisiana farm! Vance talks about the way his farm saves water, moving to drip irrigation, and how exciting it is to find moisture in the spring, the ways they have reduced tillage, are using cover crops,
Family Farms Growing Cotton for Wrangler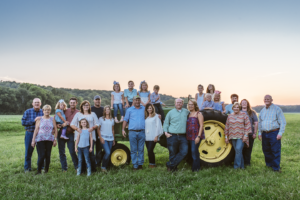 When I first saw the news, I looked through the list anxiously and as I did, I realized that many of the farmers were people I have known for decades. These aer farmers who have been looking for ways to improve their farms as long as I have known them. And Wrangler is sharing the farmer's stories on the jeans, in ads and on the Wrangler Rooted website.
The company has started with two states and two families — the Newby family in Alabama and the Smiths in Big Spring, Texas — there are Tennessee and North Carolina jeans / farmers.
Watching the videos, I immediately want to buy some of the products! Here's the video of the Newbys…. Jerry (the older gentleman who starts the video) has a heart of gold. Although I don't know his children and grandchildren as well, I have met them several times and they seem to carry that trait too. The video captures the family I know well.
Interested in Hearing More?
I have to tell you, looking at this project, it goes beyond win-win.
Environmentally
Having a major brand like Wrangler take the time to go indepth on sustainability matters. Individually there is so much that can be done but with scale for good that a major brand has… well, that brings lots of individual efforts to a greater scale. And in fact, even though I didn't know this was coming, I had hoped to be on a panel with the sustainability lead for Wrangler's parent company talking about just this sort of thing last year when we porposed grow to sew for SXSW Interactive.
Quality
Looking at all the details on the jeans, it looks like Wrangler is thinking about it all. The jeans seems to wear the state with pride. There is a state map on the button at the waist and on the leather tag on the back pocket and the inside pockets are incredible!
Supporting US Jobs
Over the last few decades, more and more textiles have been moving out of the US as people looked for cheaper clothes. This return to high quality, provides the pricing cushion that allows more of the work to be done in the United States. And I have to tell you, I'm personally willing to pay more for quality that also provides jobs here. Obviously, I love the fact that cotton farming families are being featured for all the great work they are doing. That may be a bit selfish though as someone who's worked with cotton so long.
It Feels Good
I just like the idea of knowing the back story on some things. And having had decades of knowing families like the Newbys, I have so much confidence in the products they produce and that just makes me smile. I think I may wait for the Tennessee products coming later this summer since I'm a Memphis girl, but who knows…. some of the Texas & Alabama stuff looks great!
You may see more about this on Hundred Percent Cotton! I am looking forward to seeing more!